1999 Year in Review
Highlights
1999 A-Division
Mel's Pub finished atop the regular season standings for an unprecedented 4th straight year. (1996 B-1, 1997, A-2, 1998 and 1999 A Division). They were upset in the playoffs. TNT Sports Club cemented its place in Norristown Softball history by winning the Norristown A-Division Softball Championship for the 5th time in the last seven years. Sonny Termine's squad won the best of five series from arch-rival Cannon Roofing three games to one.
Final Standings
| | | | |
| --- | --- | --- | --- |
| "A" Division | W | L | Pct. |
| Mel's Pub | 19 | 5 | 0.792 |
| TNT Sports Club | 19 | 5 | 0.792 |
| Cannon Roofing | 14 | 10 | 0.583 |
| Hooters K.O.P. | 12 | 12 | 0.500 |
| Berry Mowing | 12 | 12 | 0.500 |
| Direnzo's Tavern | 12 | 12 | 0.500 |
| Little Brown Jug | 10 | 14 | 0.417 |
| Hayeck's Cafe | 7 | 17 | 0.292 |
| Majestic Car Care | 3 | 21 | 0.125 |
TNT - Team of the Decade




Final Series: TNT Sports Club cemented its place in Norristown Softball history by winning the Norristown A-Division Softball Championship for the 5th time in the last seven years. Sonny Termine's squad won the best of five series from arch-rival Cannon Roofing three games to one. The teams split the first two games by the identical scores of 19-18. TNT swept the last two games 22-16 and 14-10 to clinch the title. The final series MVP was none other than JR Williams, who time and time again came through with a clutch hit. Williams was an amazing 18-22 (.818) in the playoffs with 3 home runs and 18 RBI's. The MVP voting was close between Williams and Michael Hopson who was 17-21 (.810) with 5 home runs and 18 RBIs. Mike Lombardo (14-22) and Ivo Salvi (16-28) also contributed big to the TNT attack. The power was supplied by former ASA national all-american Warren Grant who went 15-26 with 7 home runs and 23 RBIs. Tony Carfagno went 9-14 for a .643 clip. Pitcher Rob Wisner hurled every playoff game and was a force defensively up the middle as well. Other members of the championship squad include; Sam Ferrante, Kip Harwick, Bobby Ray, Ray Schierer, Chris Phenniger, Johnny Claus, Rich Mack and coach Ernie Chintalen. The leading hitters for Cannon in the final series were John Schultz (11-15, .733) with 5 home runs and 17 RBIs. Pete Luzi was 12-17 with 3 home runs and Ken Shemonski was 11-16 with 4 home runs. TNT laid claim to the "Team of the 90's" moniker. The club previously had won A-Division titles in 1993 against Mascaro's, 1994 versus Triple S, 1995 against JoMark, and last year they defeated Hooters KOP for the crown. All five of their series victories were won in four games. Including the five Norristown A-Division titles, TNT Sports club has now won 17 league titles since its inception in 1978. Included are three Norristown B-Division championships (1988, 89 and 91), three Norristown Fall League titles (1992-94), three Central Monto League titles (1980-82), an East Norriton title and a Bensalem Fall League title both in 1992. They also traveled down to the South Philly Capitola League and captured that championship back in 1996. Al's Cold Cuts, arguably the greatest team ever to play in this area, has won the most Norristown Championships with an astounding 14 titles from 1972 through 1988. They won eight straight times from 1972 through 1979, then captured five straight titles fron 1982 through 1986, before finally winning their last title in 1988. Al's also won the old Conshohocken League eight times in nine years ( between 1974 and 1982) and also won the Bridgeport League seven other times for a grand total of 29 area league championships. That record may never be broken. Give credit where credit is due, things have changed a lot since then and we may never have another Al's Cold Cuts, but TNT has proved beyond the shadow of a doubt that they were and still are the best that we've seen on these area fields over the past 10 years. So congratulations to Sonny Termine and TNT Sports Club for a job well done. This final series loss by Cannon doesn't diminish what this team has accomplished over the years as well. All the talk about TNT winning 5 titles in the 1990's, Who do you think won the other titles, Cannon Roofing won back-to-back championships in 1996 and 1997. A couple of the old Cannon players won back-to-back titles playing for American Collision in 1991 and 1992. Cannon also won 2 Bridgeport titles in 1995 and 1996 before going over to the Quakertown league and capturing 2 title in the last three years. The squad beat none other than TNT in the 1991 Bridgeport A-2 Division Championship series. They also defeated TNT in the 1991 Norristown Fall League title tilt. Cannon won Fall titles in 1995 and 1996 as well. So, congratulations to Gerry Cannon for the job he does of consistently putting together a winning team as well.
---
1999 B-1 Division
Frank's Pub Hitmen was the B-1 Regular Season Champion in addition to capturing the playoff championship over in the Bridgeport League. They were upset in the Norristown playoffs by Fryer Construction one game away from going to the final series. The Brown Jug came back from a 2 games to 0 deficit to claim the B-1 Norristown Championship over Fryer Construction. Congratulations to sponsor Earl Metzger and the rest of the Brown Jug players, especially my buddy Logan Ruth, He has played a long time and its about time he finally has a couple titles under his belt.
Final Standings
| | | | |
| --- | --- | --- | --- |
| "B-1" Division | W | L | Pct. |
| Frank's Pub Hitmen | 15 | 3 | 0.833 |
| Brown Jug | 14 | 4 | 0.778 |
| Stewart & Conti | 10 | 8 | 0.556 |
| Fryer Construction | 8 | 10 | 0.444 |
| Direnzo's Tavern II | 8 | 10 | 0.444 |
| Conner's Auto Sales | 7 | 10 | 0.412 |
| Multi-Line Financial | 0 | 17 | 0.000 |
Playoffs: Stewart & Conti defeated Conners 13-12, Fryer's defeated Direnzo's 18-10, Direnzo's defeated Conner's 15-12 (Conner's is eliminated), Frank's Pub Hitmen defeated Fryer Construction, Brown Jug defeated Stewart & Conti, Fryer Construction then eliminated Stewart & Conti, The Brown Jug beat the Hitmen, Fryer Construction defeated Direnzo's, Fryer's then eliminated The Hitmen to set up the final series between the Brown Jug and Fryers.
---
1999 B-2 Division
The Franchise captured the regular season title as they got hot and won 14 straight games to finish on top. They gave it a gallant effort in the playoffs but came up short as The Steel Curtain defeated the Franchise 3 games to 2 in the best of 5 finals to claim the Norristown B-2 Championship.
Final Standings
| | | | |
| --- | --- | --- | --- |
| "B-2" Division | W | L | Pct. |
| The Franchise | 15 | 3 | 0.833 |
| Swedeland Fire Co. | 13 | 5 | 0.722 |
| Mt Carmel Club | 12 | 6 | 0.667 |
| Steel Curtain/Toto | 9 | 9 | 0.500 |
| We Three Pets | 9 | 9 | 0.500 |
| Steppy's Place | 3 | 15 | 0.200 |
| J&J Painting | 2 | 16 | 0.111 |
Playoffs: We Three Pets defeated Swedeland Steel Curtain defeated Mt Carmel Swedeland then eliminated Mt. Carmel in the losers bracket Steel Curtain defeated We3 Pets Steel Curtain defeated Franchise We 3 eliminated Swedeland in losers bracket. Franchise beat We 3 Pets to eliminate them and send the Franchise squad to the finals to meet Steel Curtain.
---
1999 Rec Division
Falcone's Sports Bar out-lasted Natale & Onufer for the Regular Season Rec title. The results were reversed in the playoffs as Natale & Onufer defeated Falcones in the best of 5 final series to claim the Norristown Rec League Championship.
Final Standings
| | | | |
| --- | --- | --- | --- |
| "Rec" Division | W | L | Pct. |
| Falcone's Sports Bar | 17 | 4 | 0.810 |
| Natale & Onufer | 15 | 6 | 0.714 |
| Kinsey Landscaping | 13 | 8 | 0.619 |
| MAC Real Estate | 9 | 12 | 0.429 |
| MSS Club | 9 | 12 | 0.429 |
| Southside Cafe | 9 | 12 | 0.429 |
| Flex's Gym | 7 | 14 | 0.333 |
| Main Street Pizza | 5 | 16 | 0.238 |
Playoffs: Southside defeated Kinsey 18-6, MAC defeated MSS 19-18 in 9 inning, MSS eliminated Kinsey's 14-8, Falcone's defeated Southside, N & O defeated MAC, Southside then eliminated MAC, MSS then beat Southside eliminating them, N & O defeated Falcone's in winners bracket final, Falcones then eliminated MSS to advance to the final series vs. N & O.
---
1999 Norristown Fall League
The Little Brown Jug won its third straight Norristown Fall League Championship this past Sunday. After losing their first game to Direnzo's Bad Boys 20-17, The Jug came back to eliminate Trappe Tavern 19-0, then double dipped the Bad Boys 12-9 and 14-0. Offensive MVP Tom Coughlin (12-15) and Joe Termine (9-11) were the hitting stars. The Jug was led defensively by playoff MVP Steve Dimitry who hurled two shutouts in route to the title, he was backed by a sound defense of Andy Gelet, Ivo Salvi, Jeff Brennan, Joe DeCicco, Brian Fields, Chris Painter and Ozzie Zebrowski. Thom Eisenberger, Paul Foley and Ernie Chintalan also played big roles in the playoff tournament.
---
1999 A-Division MVP and Home Run Leader
Here is the Final voting for the 1999 (A) Regular Season MVP: Tom Coughlin, the slugger for the Little Brown Jug who hit 25 home runs this year has won the balloting in a close race over longtime legend Ken Shemonski of Cannon Roofing The voting was close as Coughlin polled 28 votes to Shemonski's 25. Final Series MVP JR Williams of TNT Sports Club finished third with 15 votes. He was followed by Mike Kaufman of Hooters with 14 and Tom Pagel of Brown Jug with 12. Rounding out the top 8 was Andy Gelet, Hooters (9 votes), Paul "Reds" Meare, Mel's (8 votes) and Warren Grant, Mel's (7 votes). Others receiving votes were Steve Dimitry of Brown Jug (6) along with Mike Lombardo (5) and Rob Wisner (4) of TNT.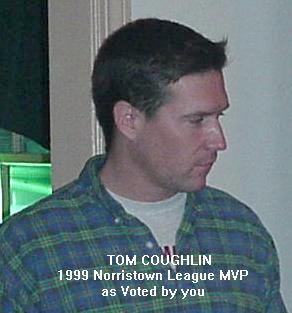 Here is the Norristown "A" Division All-League team from the Commish:
1B- Warren Grant, TNT Sports Club and Tom Pagel, Little Brown Jug; 2B- Karl "Kat" Janetka, Hayeck's Cafe and Bobby Ray, TNT Sports Club; SS- Mike Lombardo, TNT Sports Club; John Schultz, Cannon Roofing and Buck Mathias, Hayeck's Cafe; 3B- Cory Shank, Hooters and Marc Zeigler, Berry Mowing; Utility IF- Dan Helm, Mel's Pub and Sammy Ferrante, TNT Sports Club; LF- Andy Gelet, Direnzo's Tavern and Tony Carfagno, TNT Sports Club; LC- Pete Luzi, Cannon Roofing and Ivo Salvi, TNT Sports Club; RC- Ken Shemonski, Cannon Roofing and Mike Hopson, TNT Sports Club; RF- Tom Coughlin Little Brown Jug, Kip Harwick, TNT Sports Club; Utility OF- Tim Kull, Berry Mowing and Jim Lelii, Mel's Pub; C- Mike Kaufman, Hooters and Paul "Reds" Meara, Mel's Pub; EH- JR WIlliams, TNT Sports Club and Marty Murray, Mel's Pub; P- Rob Wisner, TNT Sports Club, Steve Dimitry, Little Brown Jug and Jerry Cannon, Cannon Roofing; Utility- Chris Phenniger, TNT Sports Club, Darren Posavec, Majestic Car Care and Keith Berry, Mel's Pub
---
1999 ASA of PA State Champion - PA Embroidary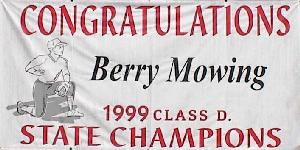 Congratulations to Rich Cocchmiglio and Berry Mowing/PA Embroaidary: They won the ASA of PA Class-D State Championships in York, PA. Glenn Luby, Randy Tibbs, Paul Collins and Bill Berry have had the same nucleus of guys for a long time and when you play together and get along with each other, anything can. Berry finished the weekend with a perfect 6-0 record as they beat John's Bar of Evans City 17 - 14 in the final game. The players for Berry were: Randy Tibbs, Tim Kull, Dean Carr, Brent Schaffer, Keith Wood, Keith McCullagh, Mike Cliver, Herschel Thorton, Dana Luscombe, Scott Knauer, Glenn Luby, Chuck Kratz, Mike Lamont, Marc Ziegler, Dave Pettine and Bill Berry.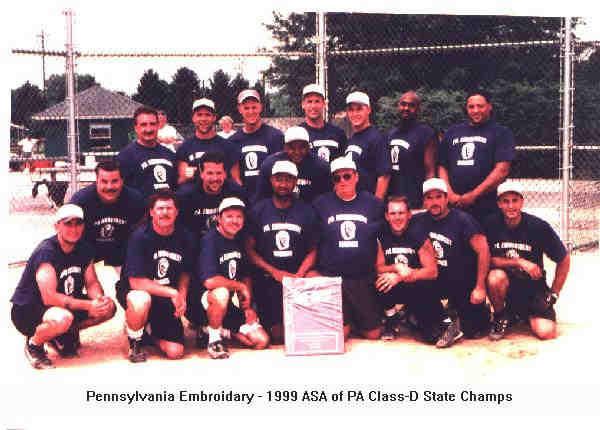 ---
1999 All-Star Night Extravaganza
TNT defeated Warehouse 17-16 in a battle of league Champs: The defending Norristown League Champion - TNT Sports Club played the current South Philly League Champion -Warehouse. Sonny Termine pitched TNT to victory as Chris Phenniger, JR Willians and Mike Lombardo all had 3 hits. John Claus homered for the victors. Leading the defense is probably the best outfield in the league; Kip Harwick, Ivo Salvi, Mike Hopson and Tony Carfagno. Legends Bobby Ray and Rob Wisner were away and could not attend.

The Norristown All-Stars defeated the South Philly All-Stars 23-2: Starting pitcher Jeff Brennan limited the South Philly all-stars to just 4 hits and 2 runs over the first half of the game before turning over the pitching duties to Steve Dimitry. The South Philly all-stars could only muster 1 more hit for the rest of the game. Brennan led the all-stars with 3 hits on the evening and John Schultz led a strong defense with flawless play at shortstop. Schultz also collected 2 hits including a 3-run homer to spark a 7 run uprising to get the Norristown squad rolling along to their big win. Other defensive standouts include Bo Josetti, Andy Gelet and Pete Luzi. Current home run leader Tom Coughlin had 2 doubles. Chris Phenniger, Mike Lombardo, Andy Gelet, Ken Shemonski and Karl Jenetka all had 2 hits apiece for the Norristown team. Steve Dimitry also collected 2 hits and combined with giving up no runs and only 1 hit on the mound, was subsequently awarded the MVP trophy for the game. Manager Jerry Cannon used all 19 players on the roster. The Norristown All-Stars included Chris Phenniger, JR Williams, Mike Lombardo from TNT; John Schultz, Kenny Shemonski and Pete Luzi from Cannon; Andy Gelet, Jeff Brennan and Todd Taylor from Direnzo's; Brian Fields, Chris Painter, Tom Coughlin and Steve Dimitry from The Jug; Cory Shank, Bo Josetti and Mike Kaufman from Hooters; Karl 'Kat' Janetka, Buck Mathias, Joe Decicco and Chuck Farrell from Hayeck's; Scott Knauer, Tim Cole and Mark Zeigler from Berry. Ernie Chintalen and Rich Cocchmiglio were base coaches. Sully Gelet was the MC and the whole event was conceived and organized by Sonny Termine.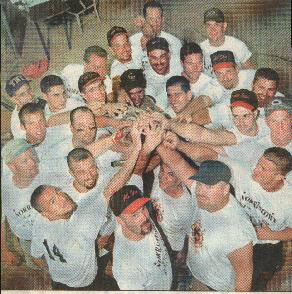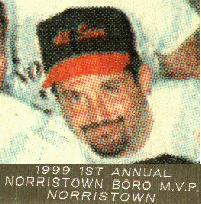 ---
©1998 Steve Dimitry, all rights reserved.
Email: sdimitry@verizon.net