Tony Chiccino "Chic"
September 11, 1968 - July 10, 2001
A tribute from family and friends alike - all these quotes were taken from the Norristown Softball Message Board. I'm sure his loved ones are proud of him.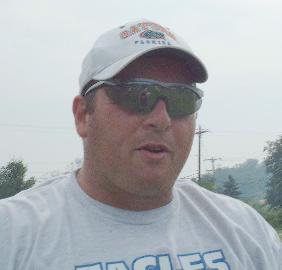 We would like to take this opportunity to thank all of you who took the time to post your thoughts and feelings about Chic. Nothing made him happier than to be on a ball field. Thank you for your kind words. They touched our hearts and will be remembered always. - Sincerely, Nick, Mary Rose and Tommy, Rita, Dee, Mom, and Nora.
Goodbye Chic From Bulldog - Words cannot describe the way I feel right now. I met Chic's father when I was a student at Phoenixville High. Seven years later I met Chic. He played against me in the Bridgeport league. At first we didn't really hit it off. I guess it was because we had the same arrogance. I thought then he was nothing like his dad. But eveything changed when Tony came to play with my Italian Club . It was then that I realized he was exactly like his dad. Chic was more than a great softball player, he was a great friend. He used to call me "Bulldog" because I never smile. Tony always had a smile for everyone. Our saying to Tony was "Buzz the Tower", like in the movie Top Gun. Only Chic could hit them that far. In the eyes of the entire Italian Club Softball team, Tony, you were our Top Gun. Please let it be known that the Italian Clubs' decision to play Tuesday evening was a unanimous team decision. We meant absolutely no disrespect. We played to honor Chic. I personally wanted to be like "the Little Drummer Boy", and play my best for him, but my grief over losing # 44, one of my best friends and someone I was privileged to have known didn't permit it. Sully started the game with a prayer and a moment of silence, through which I bawled like an unashamed baby. Announcing the line-up for the game was extremely difficult, knowing I would have to re-assign my sluggers usual 4th slot. The Italian Club team will never be the same. I'll miss our softball chat sessions during which Chic would call it as he saw it,honestly, frankly, and passionately. Both on and off the field. Chic was a classy guy with a great sense of humor. His concern was genuine as he helped me through some difficult personal problems. Even knowing how competitive he was, and his love for the game, he often advised me to put my family first and worry about softball second. My sincere condolences fo out to the entire Chiccino family and Nora. Nick, Buddy, we are all here for you ... Farewell to an honestly true friend, one I respected immensely, will always remember, and will truly miss ... Fondly, the buddy you referred to as "the Bulldog" Johnny Nattle # 34
I just want to say my heart goes out to Chic's family. I had the privilege to play baseball and football with him in high school. He was a great person and always had a kind word for me when I saw him. He was a class act. I will always remember #44. - Jay Rissel
It was a privilege to play with and against #44 for many years in Bridgeport, Norristown and the old Lansdale Unlimited Sunday league. My heart goes out to the entire Chiccino family at this time of great loss. I will personally miss Tony a great deal as he was one of the most classy individuals I had ever met, a chip off the old block. Goodbye, my friend. - Andy Drobek
It was a pleasure to have known you! - Jerry Cannon
It took me a while to think of something to say, nothing ever comes out just right, so I'll just speak from my heart- To say it simply, He was one of the nicest people I've ever had the privilege to know. He lived with a heavy heart for many years after the loss of his father back in the 1980's. I've never heard him say a bad thing about anybody. And I've never heard anybody say a bad thing about him either. To me, that's a sign of a good and beloved man. He was so respectful, he always took the time to say hello to my own dad when he saw him and has told me many times, always stay close with him and tell him how you feel, because all of a sudden, one day he may not be there. He told me this because he knows how close we are and I knew how much his pop meant to him. I know in my heart that Chic and Chic JR are together again up there in two seats reserved especially for the caliber of people they were. So to "Mr. C" (as he called himself in his emails to me), I say good-bye and thanks for letting me part of your life. You may be gone but never, ever will be forgotten. - Steve Dimitry
This is too hard to believe. I am proud to say that I had the honor to know Chic through softball. My condolences and prayers will be with the entire family. We have lost one of the true great people in our softball community. - Tony Carfagno
I know I speak for everyone on Stadium Sports when I say "Our thoughts and prayers are with Chic's family and friends today." It took a lot of heart for the Italian Club to come out and play for Chic last night, you guys are class acts and great friends. - Jimmy Lelii
My heart a prayers go out to the Chiccino family, I was great pleasure knowing and playing with and against a great man. God bless #44 - Joe Sanna
My prayers are for Chic and his family, he was a kind and gentle man, and one of respect. He will always be remembered by many - Buck Stonesifer
My heart and prayers go out to Chic's family. I personally know how hard it is to lose a "loved one" at a young age. Sometimes we ask ourselves why? We as humans, don't have that answer. We just have to live with that fact that it happened. Which sometimes doesn't seem fair at all!!! Chic was a true gentleman on and off the field! Chic you will be missed by many, on and off the field!!! - Roger Kummerer
With a grieving heart I say farewell to a great friend and a class act. We'll miss you Chic. - Mike Corliss
God must have a special mission for you to be taken from us so young! God bless Chic's family, It's hard to lose such a great person. You will be missed! - Mike Kaufman
I met Chic about 11 years ago when I first got started in this league. He always played to win. My prayers go out to his entire family. You will be missed #44. - Chris 'Opie' Hendricks
Chic was a good ball player and a great person. During the game he was competitive as anyone, always wanted to win. But after the game, he was a great person no matter the outcome of the game. #44 you will be missed on the field but you will always be our hearts. God Bless Chic`s Family. - AC
Goodbye to a great person who touched a lot of hearts. Chic you will be missed by many. It was a privilege to play softball with you for so many years. Our prayers to the family and Nora. God Bless - Joe "Zeke" Pizzica
Tone, You left our lives much to soon, but we will never forget you. We will always set a place for you, in our hearts. - Love Chuck, Chalie Chic, Sandi, Greg, Ashley, Purina, Joe Chic, Anne, Lenny, Linda, Alex, Zeke, Jana, Dina, Lara and Woody. - Thursday Dinner Club
CHIC- I WILL ALWAYS REMEMBER HOW YOU GAVE ME SUCH A HARD TIME FOR NOT TRANSFERRING TO NORRISTOWN TO PITCH FOR YOU! I AM SORRY THAT I NEVER DID! EVEN THOUGH I WAS NOT FROM NORRISTOWN HIGH YOU LET ME COME IN ON THE PITCHING PRACTICES AND GAVE ME A FEW TIPS AND BETTER WAYS TO THROW THE PERFECT STRIKE. NOW, EVERYTIME I AM ON THE MOUND I WILL REMEMBER THE PRACTICES WHEN YOU YELLED AT ME CAUSE YOU KNEW I COULD THROW BETTER THEN THE WAY I WAS THROWING. FOR THAT I THANK YOU ! ALSO NEVER FORGET THE TIMES IN DISNEY AND THE WAY WE TEASED YOU ABOUT YOUR SOFTBALL TAN LINE!! YOU WILL BE MISSED BY MANY ! I WILL NEVER FORGET YOU CHIC AND ME AND MY DAD (THE ROC) WILL MISS YOU DEEPLY . THE P-W GIRL ! LOVE YOU ALWAYS - NICOLE AND THE MOYER FAMILY
I will miss you so much Mr. C. You were a great coach and teacher. You taught me a lot in softball. There will never be another gym teacher that is as good as you. No one can ever replace you. You will be in my heart forever. Thank you for everything. I will never forget you. My prayers go out to Mr. C's family and Nora. - Melissa McHugh #3
Your kindness and friendship will be forever missed. From day one in kindergarten you knew how to make every kid feel special, not just like "He's my teacher." but "He's my friend." You taught the kids to work on their game but to have fun at the same time. I guess it was just the way you loved life with the attitude that life should be fun that fueled your sense of humor. We all feel very special to have been your friends. All of our prayers go out to Mr. C's family and Nora. Rest in Peace. - The McHugh Family
I've known Chic since I was in kindergarten in St.Titus School. He was the best gym teacher and coach. When I started to play for the Flaming Angels I started to know him more and when we went to Florida, I would get him to go on every ride and he would say that was great when it was over. I remember how he always would say to me I can't wait for you to play for me next year on the Varsity softball team at Titus. I'm going to miss him so much. Whenever I step on a softball field I will say to myself I'm going to play my hardest because that's what Chic would want me to do. My thoughts and prayers go out to Chic's family and Nora. He is going to be missed by so many but I know that he is safe with his dad. When I go back to school I'm going to miss him so much and gym isn't going to be fun anymore like it used to be. We all loved you Chic. - Alyssa Koscelansky
From September until now I knew Chic. He taught me to never get down on yourself when you make a mistake. He taught me so much these past months I can't name them all. He was loved by all. And I am going to miss him so much. God bless chic's family and Nora. Love, Rousie - Laura Reuss
Chic, I have known you for almost all of my life. This was the first year I've had you as a coach. I wish that I could have you as one of my high school coaches. I enjoyed the time we spent together in Disney. I can't believe that you are gone but you are with your dad and I'm glad. I will miss you a lot. - Ashley McCarthy #24
Chic, You will be missed and you also left a huge impact on the everyone around you. Even though you will be gone you will always be remembered for your love, your passion, and your intensity to win on and off the sports field. Chic, It was a pleasure to play under you and it was also a pleasure to know you. You will be missed by everyone who knew you. Thanks for everything. - Eric Shrader
Chic, what words could I say that would even come close to what you meant to me? I have never met a more devoted coach or friend. I really don't think you even realize that the little things you would do to cheer me up would help me so much. You were like the cool uncle that i could go to with my problems and you would listen. It didn't matter how stupid the problems were. And as for a coach, your ability remains unsurpassed. You taught me that I could do whatever I set my mind to and succeed. You can never be replaced in my heart and I will never forget you. Thank you for all you've done for me and I hope I will see you in heaven. I love you Mr.C. - Keri Guzzardo
Chic, What can I say??? You were with me my first year. My first high school coach, and then I stuck with you until my senior year. Having you all 4 years. I will never forget all the times you yelled at me keep your butt down, don't pop up too early. But most of all I remember all the great times we had. The times when you always yelled yeah Hunsy! I remember when Tara was around and we would walk back from pitching as #33, #34, and #35 all in a row. But most of all I remember all the great times we had, winning Suburban One, and then making fun of Mary... the Slug. Everytime I hear someone call me Hunsy, I turn around and wish you were right there, the one saying it. It has been really hard for me, but I know that you are in a way better place now with your father. Chic I love you, and I will never forget you. I know you are looking over us and taking care of us one by one. You are in our hearts forever Chic, I love you buddy! I will see you in years to come when I meet up with you some day in Heaven. Love ya lots, - Hunsy #35
CHIC, I HAVE FELT THE PAIN OF ONE OF YOUR LINE DRIVES UP THE MIDDLE BUT NOTHING COMPARES TO THE STINGING PAIN IN MY HEART FROM YOUR LOSS. I HAVE BEEN FORTUNATE TO HAVE PLAYED SOFTBALL AGAINST YOU, WITH YOU, AND MOST RECENTLY TO COACH ALONG SIDE OF YOU. YOU WILL BE REMEMBERED BY ALL OF THOSE LIVES YOU HAVE TOUCHED ... YOU HAVE REACHED HEAVEN UPON THE WINGS OF "EAGLES", AND HAVE BECOME THE "ANGEL" OF OUR DREAMS'. I WILL MISS YOU DEEPLY, AND I KNOW YOUR SPIRIT WILL ALWAYS BE WITH US ALL... THE ROC - Rocco Moyer
Dear Chic, What a week it has been. In your typical style, you have left us all speechless. I will miss you beyond words. You welcomed me, 3 years ago, into the coaching staff at Norristown immediately with your humor and from there "the rest is history". I will miss your smile, your humor and most of all your ability to speak your mind. So often you told me things that i didn't want to hear, but i still needed to hear them. You will take with you a piece of my heart. You were a very special person to me. Thanks for EVERYTHING! I will have a hard time stepping onto that playing field without being reminded of your memory. I know you and your dad are playing among the stars now in that great big field above. You are missed! love, Janina aka "coach fornal"
I didn't know Anthony that well but I grew to love him through my long time friend Nora. Being a "man's man", much like my husband, he didn't hang with the girls all that much. However, I'd say to her almost daily, via email, "How's Toni Toni Toni?" (yet another nickname). She'd reply, "So adorable! The other day he...." and proceed to tell a story that demonstrated his love of life, passion for what he does and his wonderful relationship with my friend. The last 5 days confirmed what a wonderful man, coach, brother, son, friend and companion he was. Anthony, thank you for putting a constant smile on Nora's face for the last 3 years. You can smile too because we'll take care of her. - Meredith "Rita" Adgie-Hopkins
Tone, You blessed me for 3 wonderful years. We laughed, we cried, but most of all we loved each other deeply. You have touched my life, my family's life, and all your students and friends. I am going to miss you terribly, but I have all these wonderful memories that I will take with me. You were my love and I am proud that you chose me. I always loved being at your Norristown football and softball games, St.Titus games, and driving from your Dad's field to playing with your friends on the Italian Club. It was an honor to be in the stands and watch you enjoy doing what you loved to do. It is hard without you, but I will take care of Nicky and everyone. We have each other and I know who you are sitting next to. You waited for this day for so long. I am so happy that you are with your father. I love you. All my love, - Nora Dollarton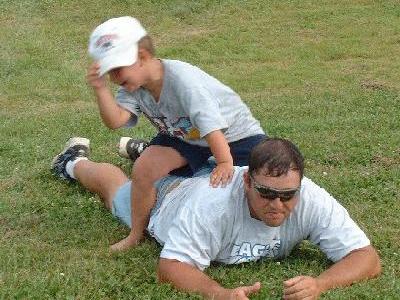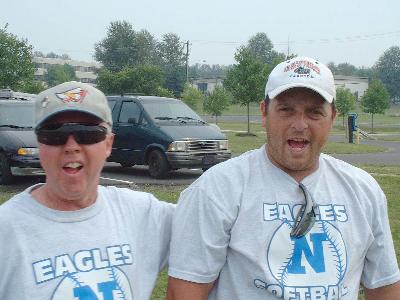 ---
Back to the Norristown Softball 2001 Home Page
©1998 Steve Dimitry, all rights reserved.
Email: sdimitry@verizon.net