Kim Garvey
May 2, 1967 - July 22, 1992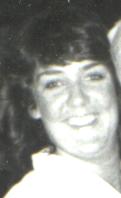 The league has now for several years honored players from the Norristown Women's Softball League with a trophy in honor of Kim Garvey. For those who have never had the opportunity to know or meet Kim and do not understand why this is done, I would like to let the league know why we have chosen to add this special award to the Women's Softball League recognition awards.
Kim Garvey was born to the parents of Joe and Bobbie Garvey. She attended Visitation BVM Catholic Elementary School and later graduated from Bishop Kenrick High School (now called Kennedy-Kenrick Catholic High School). Kim participated on sports teams while attending high school, namely basketball and softball.
Kim joined the Montgomery County Shriff's Department on June 13, 1988. She attended the ACTII class for Deputy Sheriffs in Carlisle, PA, graduated and was assigned to the Court section of the Sheriff's Department. Later Kim was re-assigned to the District Attorney's staff in 1991 under the honorable Michael D. Marini and assigned to the NET Team (Narcotics Enforcement Team).
Kim played in the Norristown Women's Softball League for the Courthouse team until 1991 when an injury sidelined her. Her injury was later diagnosed as a cancerous disease (Ewings Sarcoma), which eventually would take her life.
Kim never gave up her fight and always reminded us all of how she would return to join the team and play again. We are reminded on occasion, health permitting, Kim would attend a game. Her dedication and love of life helped all of us to be better people. Kim brought to the field of play a desire to excel and at the same time a deep willingness to help others.
It is in her memory that we wish to honor those who have, and will be chosen for this distinct award, people who best exemplify what Kim's life represented both on and off the softball field.
Kim Garvey Award Winners: (Boro & Rec)
1992 - Carol Czarecki, Walter's Tavern
1993 - Mary Lizut, Steppy's & Cindy Rothenberger, Frank's
1994 - April Nevis, S&S Design & Denise Jackson, Frank's
1995 - Monica Mathis & Janet Graham, Brown Jug
1996 - Sue Wensel, Catagnus & Karen Pflugfelder, Brown Jug
1997 - Karen 'Duke' Leary, S&S Design & Marge Gratz
1998 - Paula Errington, GiGi Golf & Eileen Loukidis
1999 - Sandy Narcisso, S&S Design & Micki Kelly, Brown Jug
2000 - Jackie Turzer, Slammers & Mary Ann Pruskowski, Tillie's Place
2001 - Lynn Gray Patterson, Bud's & Dee Dee Bernsteil, Frank's
2002 - Jill Nesbitt, Direnzos/Courthouse & Liz Stasik, Direnzos
2003 - Roxanne Wood, Showtime DJ's & Christeen Entenman
2004 - Susan Molna, Breakers & Nancy Guariano, Brown Jug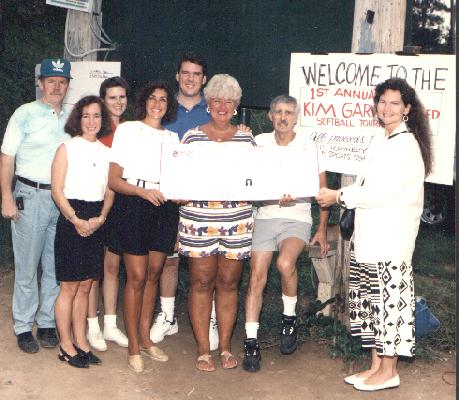 Starting in 1994, Kim Garvey's former manager, Jimmy Myers decided to honor Kim with a Coed tournament named in her honor with the proceeds going to a scholarship fund in her name to Kennedy-Kenrick Catholic High School.

Kim Garvey Memorial Coed Tournament Results:
1994 - Fire and Ice defeated Trappe Tavern
1995 - Ray's defeated Maennerchor Club
1996 - Maennerchor Club defeated Trappe Tavern
1997 - Trappe Tavern defeated In the Crease
1998 - Bud's Bar defeated Trappe Tavern (MVP- Natalie Steele, Bud's)
1999 - Trappe Tavern defeated NEA (MVP- Sue Wensel, Trappe)
2000 - Country Moon defeated Bud's/Maennerchor (MVP- Allison McGrann, Bud's)
2001 - Trappe Tavern defeated Country Moon (MVP- Steve "Rabbit" Swarter, Trappe)
2002 - Little Brown Jug defeated NEA (MVPs-Ivo Salvi, Jug & Sherry Moore, NEA)
2003 - TNT Sports Club defeated Dalton's (MVPs-Jim Lawler, Dalton's & Shannon Squire, TNT)
2004 - Black Box defeated Team Shoemaker (MVPs- Tony Nagy, Black Box & Kim Beard, Team Shoemaker)
2005 - Cancelled
---
Back to the Norristown Softball Home Page
©1998 Steve Dimitry, all rights reserved.
Email: sdimitry@verizon.net