Norristown Softball Blast from the Past
(Team Photos Section)
(This page will take a minute to load, please be patient)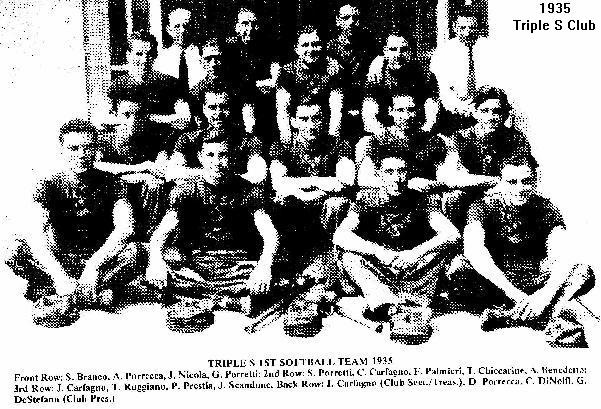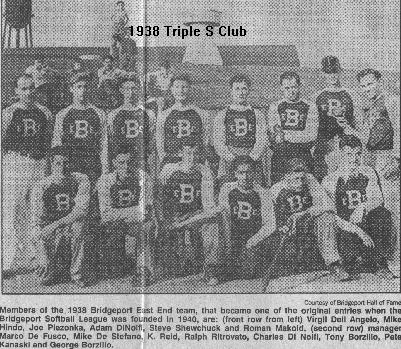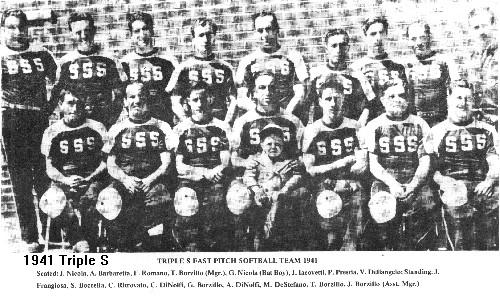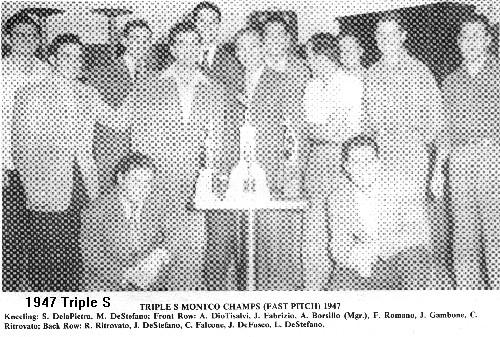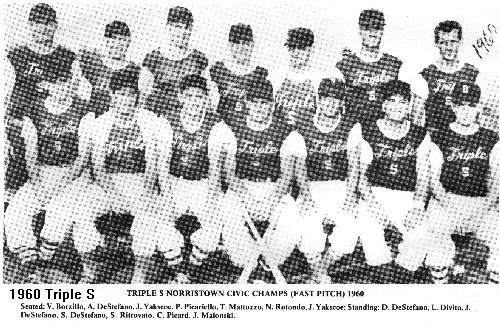 These team photos are the oldest documented team photos of the local softball scene. They won the Bridgeport Fast Pitch League and played in the Norristown Fastpitch leagues. They were originally called San Salvatore Society, hence the Triple S Club.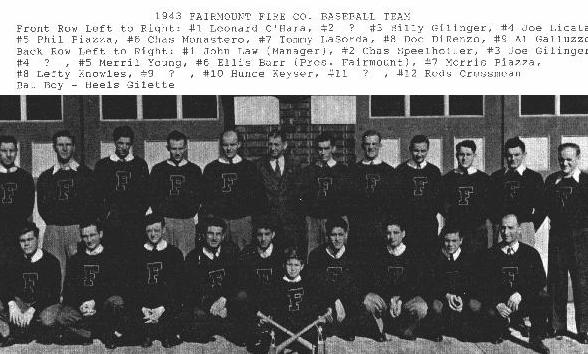 Fairmount Fire Company won the old West End Fast pitch league in 1943 and were led by Tommy Lasorda, Phil and Morris Piazza, John Law, Chas Speelhoffer and Chas Monastero. In the front row, there is a little bat boy who is none other than Heels Gelet. He still has that same smirk.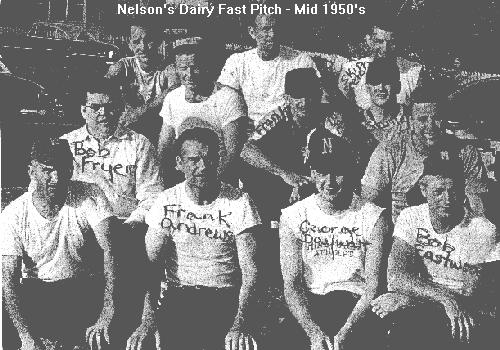 Nelson's Dairy was a Fast Pitch team that competed in the old Norristown Fast Pitch League. Some of the team members included ASA of PA member Bob Fryer, plus George Daywalt, Bob Eastwood, Frank Andrews, Skip Seaton and Fran Bickle.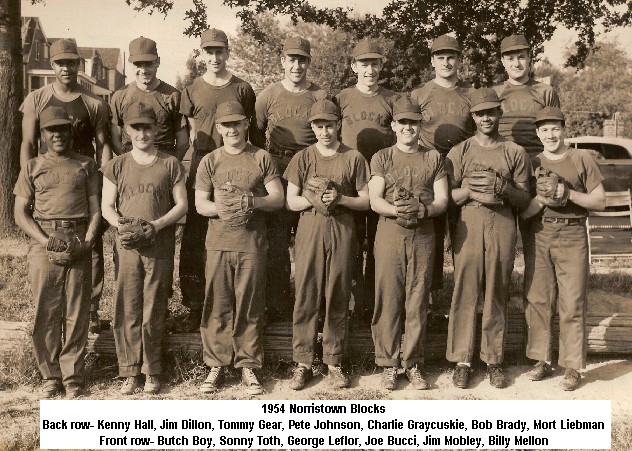 Here is the famous Norristown Blocks fast pitch team sponsored by Mort Liebman. They won many championships in the local fast pitch leagues throughout the 1950's. This is the 1954 team that won both the Norristown and West End Leagues. They later won the 1957 ASA Mid-Atlantic Regional National Championship. The team members are listed in the photo.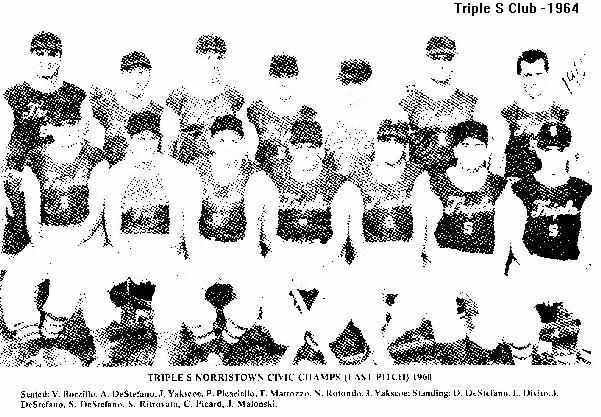 This photo is of Triple S Club's Fast Pitch team that played in both the Bridgeport and Norristown Fast Pitch Leagues. Nick Rotundo played on this team.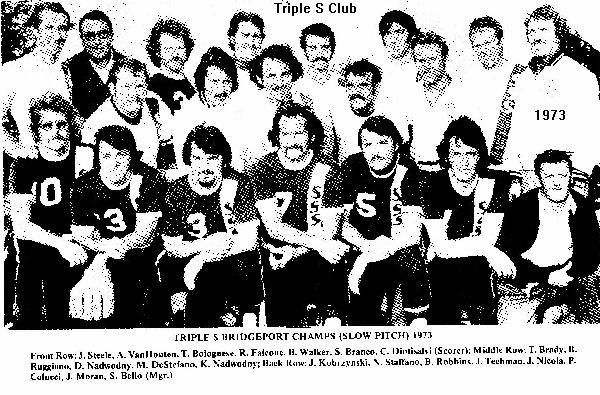 Triple S Club's won the Bridgeport Slow Pitch league many times in its existance. Here is the 1973 version led by Sal Bello, Jerry Kobrzynski, Rick Falcone, Ken Nadwodny, Dave Nadwodny, Johnny Nicola, Pete Colucci and Jerry Moran.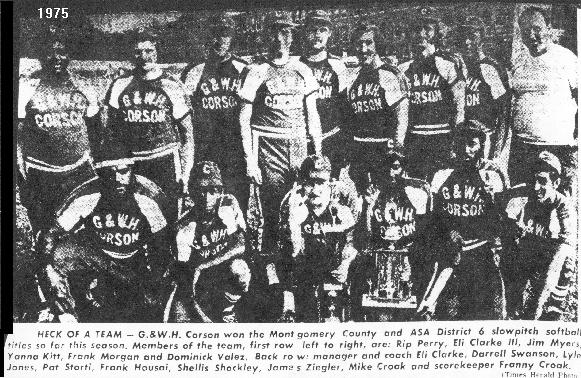 G&W Corson was one of the first in our area to win an official ASA qualifier and attend the ASA of PA State Championships. They were part of the Norristown league and were led by a couple of people we should know, Umpires Jim Myers and Pat Storti.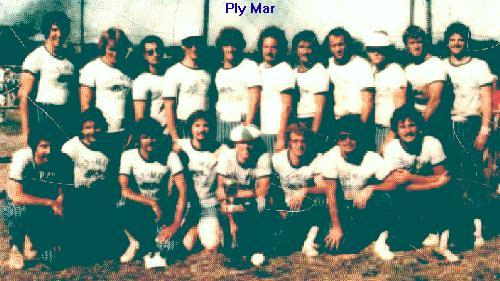 Ply Mar was runner-up to Al's Cold Cuts in the Norristown finals. These guys won the Plymouth League six straight years during the 1970's. They are as follows: Back Row; John Ray, Rob Piacitelli, Fran Picarello, Joe Romano, Geno Auriemma, Butch Lenzi, John Sanna, Ray Romano, unknown player, Mike Kirkpatrick and Ken Timbario: Front Row; Jimmy Schaeffer, Joe Bambi, Walt Pennington, Jay Murray, Corky Piacitelli, Bobby Campbell, Charlie Mack and Dr. Sam Paleo. Missing at the time of the photo were George Kerrick and probably the nicest guy to ever play in Norristown, Johnny Mancini.
Tony Rich was runner-up to Al's Cold Cuts in both the Norristown and Conshohocken Leagues. They are as follows: Back Row; Butch Auguston, Butch Fisher, John Seiple, Bones Wheeler, Mike Gouck, Butch Martin, Jack Ryfsnyder and Don Copollini: Front Row; Bill Whacker, George Palmer, Ed Seiple, Mgr-Bob Melchar, Larry Constable and Bud Tolson.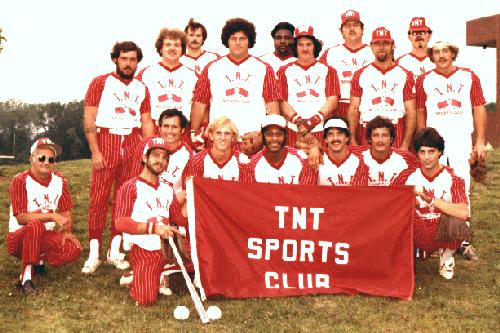 TNT Sports Club was a three-time champion in the Central Montco league. They were led by Gus Storti, John Zampieri, Lou Simpson, Sonny Termine, Mike Porcelli, Dave Mash, Ken Parker and Micky Strizzieri.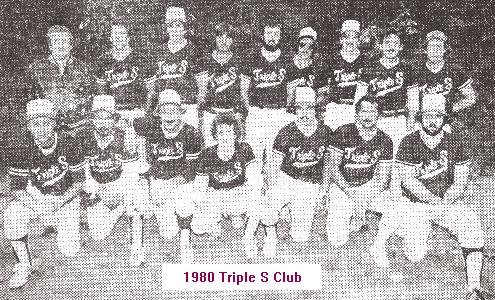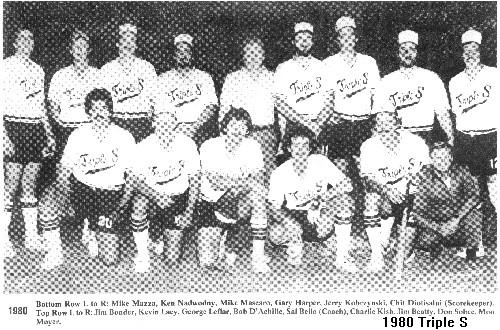 Triple S Club's 1980 team was managed by Sal Bello and was a Bridgeport Dynasty as well as a perennial powerhouse in Norristown. Both of these photos were of the 1980 team. They were led by Ricky Falcone, Legs Beatty, Mike Mazza, Kevin Lacy, Jim Bonder and Jerry "Koby" Kobrynski, Ken Nadwodny, Charlie Kish and Don Sobek.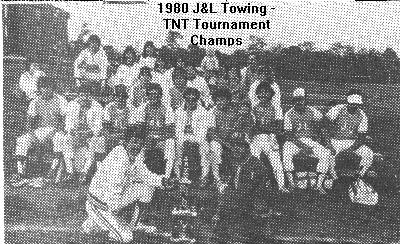 JL Towing captured the very first TNT Tournament in 1980. The picture is very old, but Sonny Termine is handing Heels Gelet the championship trophy.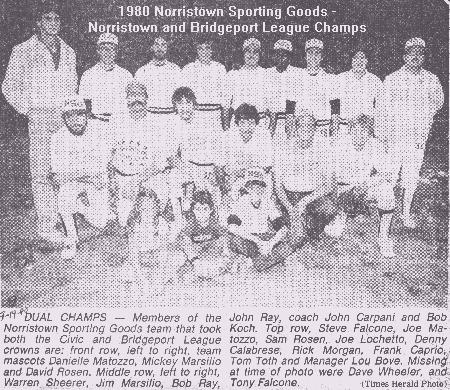 Norristown Sporting Goods was managed by Lou Bove and was won of the only teams ever to win both the Norristown and Bridgeport Leagues in the same year. They were led by pitcher Joe Matozzo, Tom Toth, John and Bob Ray, Ricky Morgan, Jim Marsilio, Sam Rosen, Warren Sheerer and Bob Koch.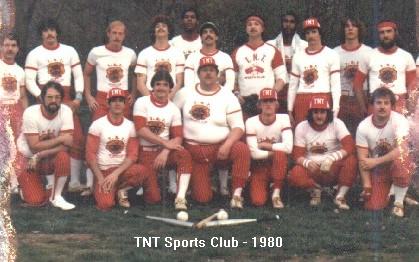 The 1980 TNT team was managed by Sonny Termine and they won their Central Montco League Championship. They were led by Mike Porcelli, Lou Simpson, Charlie Fisher, Jordy Hinkle, Micky Striezzieri, Steve Dimitry, Jimmy Davis, Joe Sutera, Dave Mash, Ken "Skeeter" Parker, Gus Storti, Billy Heckler, Gerry Corarreo, Ernie Chintalan and probably the best all-around athlete to ever play in Norristown; Richard Fisher.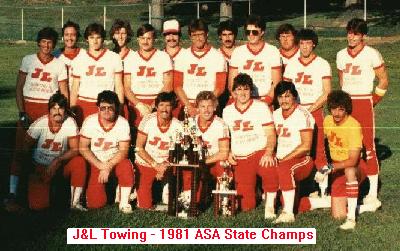 The 1981 JL Towing team was managed by Heels Gelet and won the ASA of PA Class-C State Championship in York. They were led by Buddy Lare, Dan Fisher, Al Curcio, Norm Kidd and Buddy Radcliff.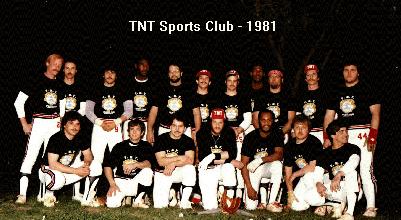 This TNT team (1981) was managed by Sonny Termine and they won their Central Montco League Championship but didn't fair so well in Norristown as they got hammered by Norristown Sporting Goods and Tony Rich in the playoffs. Back then all teams, regardless of division were put into 1 playoff tournament. They were led by Mike Porcelli, Lou Simpson, Rich "Pooch" Ficher, Charlie Fisher, Jordy Hinkle, Micky Striezzieri and Steve Dimitry.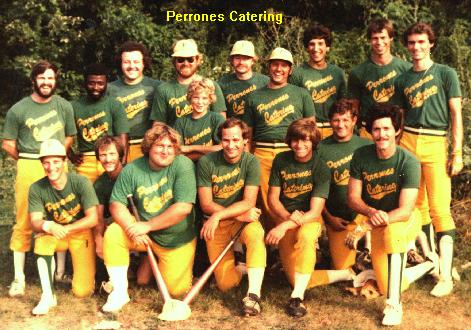 Perrone's Catering was managed by Chirs Painter and they always were in contention in the Norristown League Standings. In fact, Perrone's Catering came in 2nd in the ASA Class-C States in 1982. Dick Habbernigg, Tom Brodowski, Dave Harper, John Sawyer, John Luzi and Joe Steffy were the team leaders.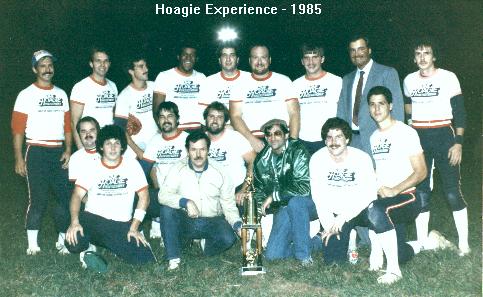 Hoagie Experience won the Norristown "B" Division and then went over to Bridgeport and completed a rare double by also winning the Bridgeport "B" Division under the ADP sponsership. Jimmy Myers managed the team and put together a nice bunch of players led by Hershall Thornton, Tony Giannone, Joe Gertnitch, Paul Collins, Rocco and Fizzie Moyer, Dave Dewey, Don Fisher and Bobby Adams.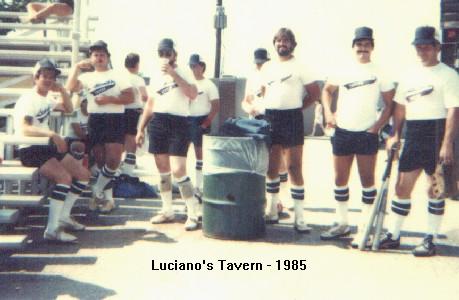 Luciano's Tavern was an enigma in the Norristown "B" Division. They had all the talent in the world and somehow never won the championship. They were led by manager Mike "Porky" Porcelli, Joe Viglione, Joe Shaw, Dick Habernigg, Jack Vandergrift, Steve Dimitry, George Tancini, Andy Drobek, Tony Tancini, Sonny Termine, Mike Bucci, Jimmy Davis, Kirk Daywalt, Jimmy Atkins, Steve Daywalt and the "Fastest Man in Norristown" - Steve Romano.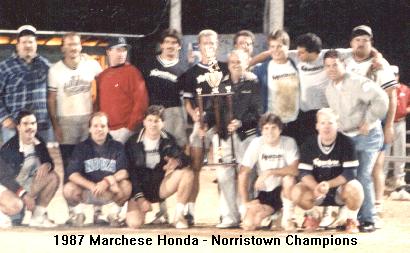 Marchese Honda won the Norristown Championship over Mosteller's Seafood. The also made it to the Bridgeport Finals, where they lost to Al's Cold Cuts. They were one of the more colorful teams ever to be assambled in league history. They were led by Fugio Auriemma, Jojo Brignoli, Johnny Whitney, Casey Murphy, Frank Harvey, Randy Fry, Phil Eisenman, John Rorick, Tom Telford and the coach was none other than Chick Vernachio.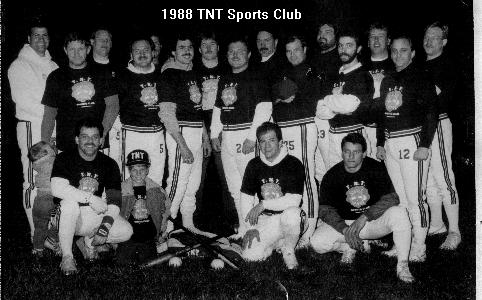 TNT Sports Club, once again managed by Sonny Termine won the Norristown B-Division. They were led by Dick Habernigg, Joe Migliarese, Kirk Daywalt, Joe Viglione, Steve Romano and Terry Norton.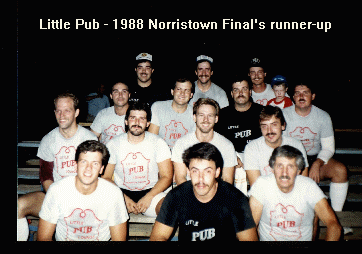 Little Pub Lounge was managed by Sully Gelet and they were the last team to make the playoffs and when they finally got to the finals to meet Al's, they were a BIG underdog. Al's 10-runned them six straight times during the year. The series went to the bottom of the 8th inning of the 5th game as Brian Becker hit a home run to win it for Al's. This was to be Al's Cold Cuts last championship. The Pub was led by Dutch Curcio, Bobby Ray, Rob Wisner, Steve Dimitry and Rick Petschelt.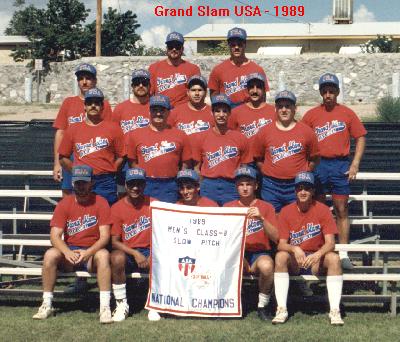 Grand Slam USA traveled to Las Cruces, NM to compete in the ASA Class-B National Championships. Led by team owner and firstbaseman Joe Ianna, the slammers also had such area stars as ClaytonBlank, Dave Gleason, John Grady, Alvin Curcio, The Brock Brothers, Mike Myshiak, Rick Petschelt and Meetch Mysawka. Ken Shemonski was named to the ASA All America team for his steller play.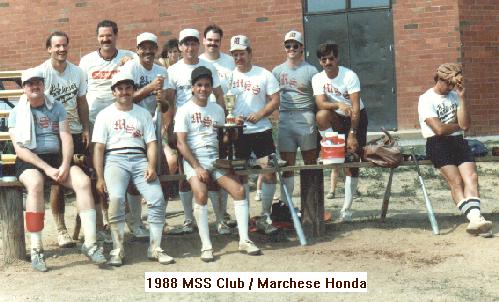 This team was comprised of a merger between MSS Club and Marchese Honda. Jerry Genuardi was the manager and was helped out by Chick Vernachio. Their roster is a virtual who's who of Norristown Softball. Such people as Jimmy Genuardi, Johnny Mancini, Casey Murphy, Mike Eitl, Ricky Schrack, Bob Cresswell, Fugio Auriemma, John Rorick and a host of other great players were part of this team.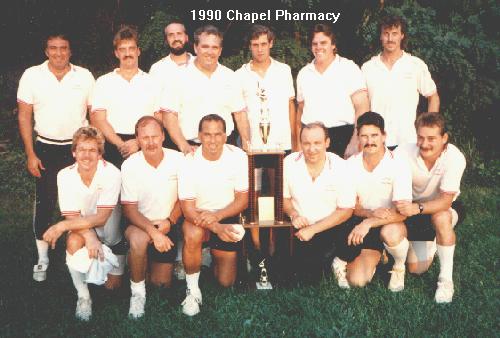 Chapel Pharmacy won the Bridgeport B-1 Championship over Mark Katrona Roofing in 1990 then lost in the finals the following year to Bucci's Jewelers. They had a who's who of Bridgeport Softball including Lott Rizardi, the late Pete Collucci, Ricky Falcone, Steve Beiderstadt, Mike Corliss, Dan Hilferly, Doug Worman and Dan Douglass.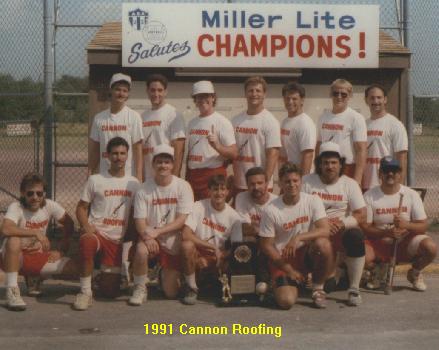 Cannon Roofing was managed and led by Jerry Cannon and they won the ASA state regional tournament up at Drifton. They were led by Andy Drobek, Ivo Salvi, Mike Picard, Scott Campbell, Lou Ercoloni, Billy Brown and Jimmy Schaeffer.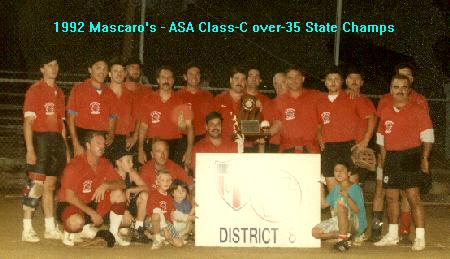 Mascaro's won the 35-and-over ASA of PA State title. They had a lot of great players on this team, including Dale Hood, Mike Gouck, Tom Mulvahill, Kenny August, Mike Mascaro, Ron Weikel, Beef Maniscalco, Bobby Keyser and Tom Eisenberger.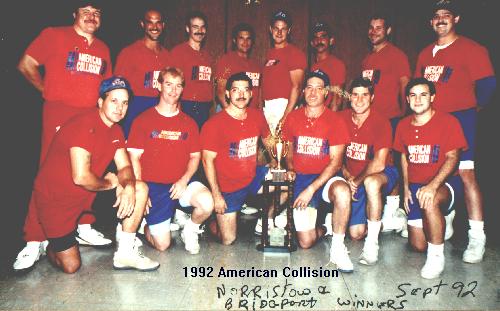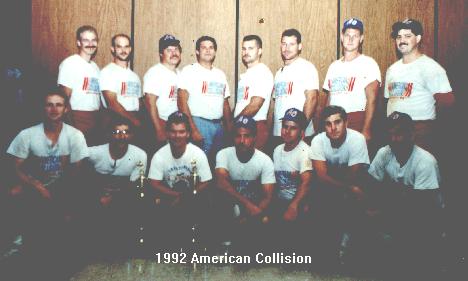 American Collision was put together by Joe Tomchick and was one of the best teans ever assembled in this area. They won two straight Norristown Championships. In 1992, they performed the rare feat of winning both Norristown and Bridgeport in the same year. They were led by Ed Keebler, Warren Grant, Joe Cottelese, Paul Meare, Johnny Whitney, Dave Gleason, John Maniscalco, Mark "Head" Lesczenski, Steve Phipps, Bobby Courtney, Ken Shemonski, Chuck DiNolfi and a host of other legends. These two photos were from the 1992 season. This team actually had 3 of the best leadoff hitters Norristown has ever seen. Wit, Reds and Gleason all were considered the best at one time or another. Then you have DiNolfi and John John Maniscalco who also batted leadoff many times. Try making up that lineup. Pitcher and Manager Joe Tomchick some how did and kept everybody happy.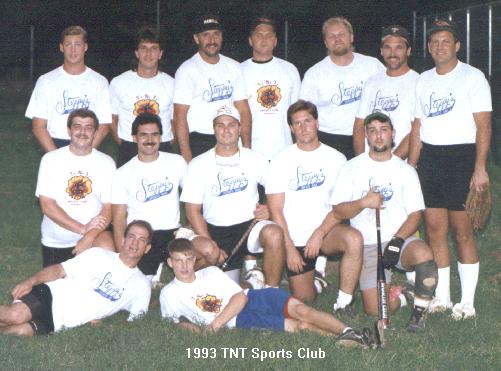 TNT Sports Club started their 1990's championship run in 1993. The team was managed by Sonny Termine. They were led Bobby Ray, Rob Wisner, Chuck Rotelli, Jimmy Kitchen, Pat O'Brien, Tom Coughlin, Tony Gambone, Andy Gelet, Kip Harwick, Tony Carfagno and Ivo Salvi.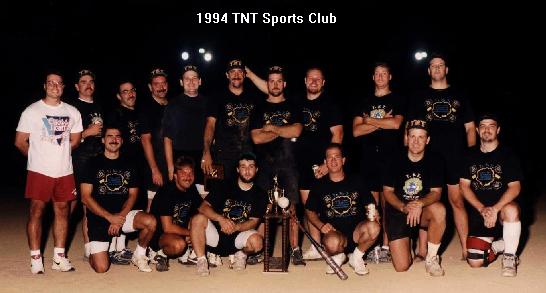 This TNT team was led by Mike Woytovich, Andy Gelet, Bobby Ray, Rob Wisner, Tony Carfagno, Kip Harwick, John Manaiscalco, Roger Kummerer, Mike Barainyak and a couple guys named Jimmy Kitchen and Chuck Rotelli.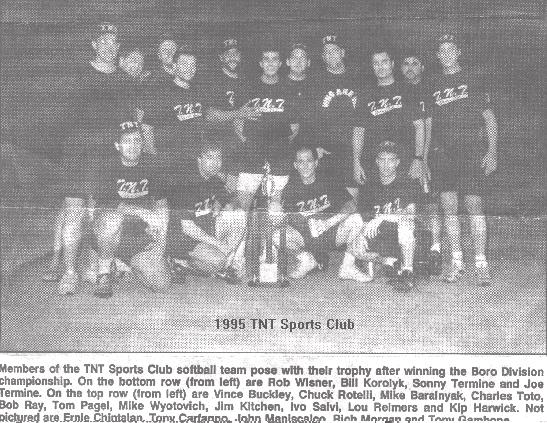 This TNT squad was also managed by Sonny Termine and they were the A-Division champs for the third straight year. This was probably the best team of the 1990's. They had Bobby Ray, Rob Wisner, Tom Pagel, Ivo Salvi, Kip Harwick and those guys named Kitchen and Rotelli again.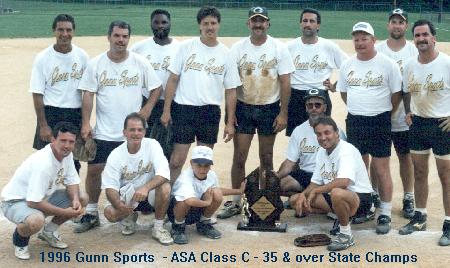 Gunn Sports was put together and run by Thom Eisenberger. They won the ASA over-35 State Title at Penn State. They were led by Sonny Termine, Bill Korolyk, Keith Bethem, Jojo Brugnoli, Billy Howseil, Mark Desimone and Bobby Ray.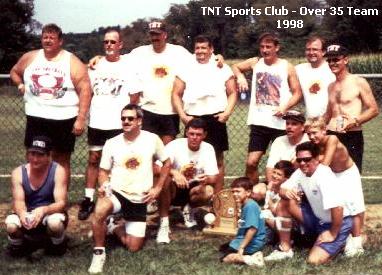 This TNT master's team was also put together by Thom Eisenberger. The team was managed by Ernie Chintalan and led by Steve Dimitry, Bobby Ray, Roger Kummerer, Mike Woytovich, Jeff Jaffe, Don Douglass and Joe "Ozzie" Zebrowski. They came in third in the ASA over-35 State's at Penn State.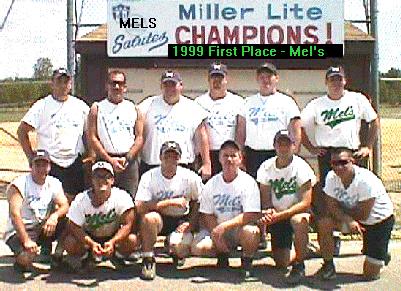 Mel's Pub is managed by Paul Murray. They have came in first place for an unprecedented number of years. They have had the best record in the A-Division since 1998. In 1997 as Bethayre's Pub they had the best record in the A2 Division. They are led by Marty Murray, Dan Helm, Paul "Reds" Meara, Dick Moody and Keith Berry.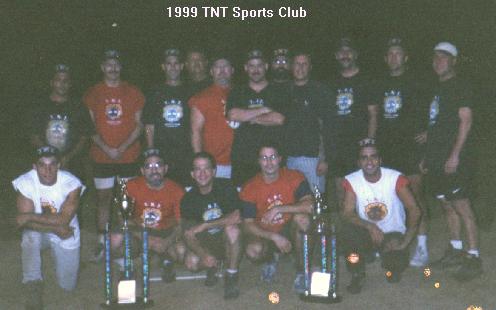 This is the last TNT team to win the Norristown title. Managed by Sonny Termine, they won the Norristown League for the 5th time this decade. They were led by Warren Grant, Mike Lombardo, Ivo Salvi, Tony Carfagno, Ray Sheier, Rob Wisner, Bob Ray, Kip Harwick, Sammy Ferrante and the legendary Keith "JR" Williams.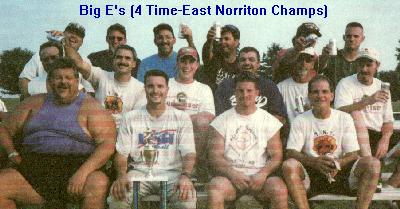 Here is a little something extra. This Team led by Ernie Chintalan which is called "Big E's" has won the East Norriton League Championship 4 years in a row. They have Norristown players like Ivo Salvi, Andy Gelet, Gary Kramer, Tony Carfagno, JR Williams and Sonny Termine.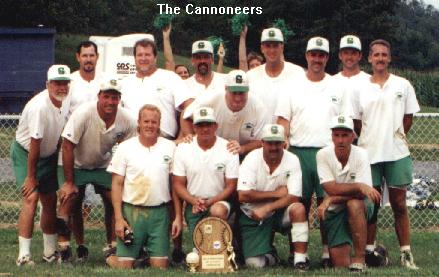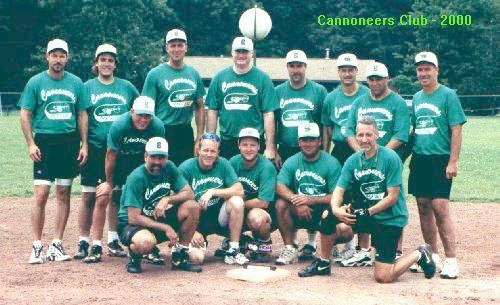 Cannoneers Club is probably the best team in the area that has not played in the Norristown league. They have won numerous Lansdale championships and even two Collegeville titles. They are led by Norristown's own Willy Plant, plus Bruce Schmidt, Sonny Seibert, Steve Pigionowski, and the dynamic duo of Mark "Issy" Synder and "Cowboy" Cary Sell.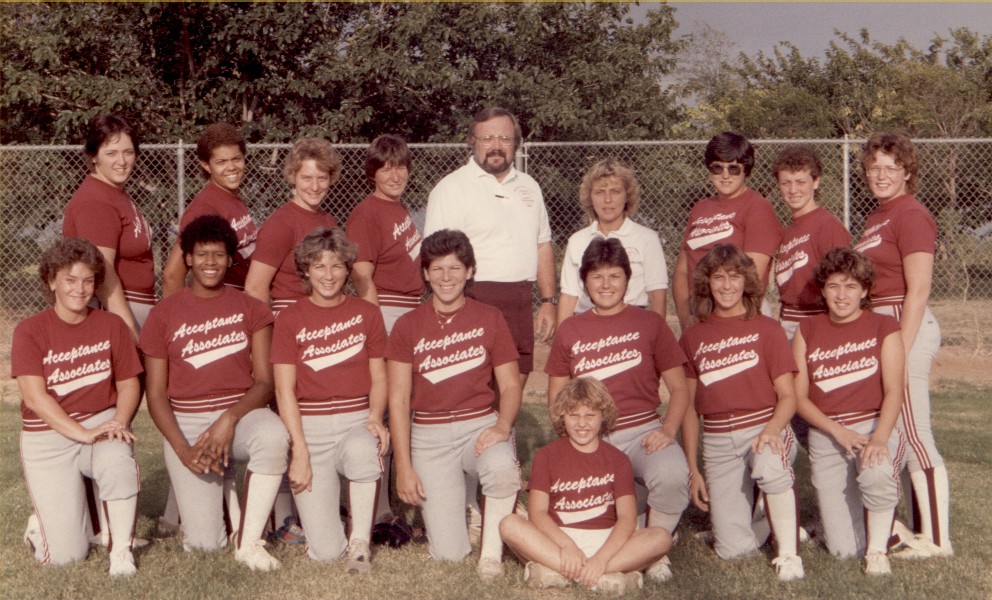 Acceptance Associates of America won the 1984 & 1988 ASA of PA Class-A State Championship as well as 6 Norristown League crowns. Here is their 1984 team as follows: Sitting in front - team bat girl, Kiley Nadwodny. Front row - pitcher Maria DiBernardi, right-center fielder Michele "stretch" Washington, right-fielder Gina Walker, short stop Francine "Frankie" Collins, third base Paula Kurkowski, left-center fielder Lorraine Lasorsa, outfielder Beth Vishio. Back row - infield Debbie Yoder, utility Ros Bugg, 2nd base Ellie Hiller, Catcher Claire Hiller, Coach Stacey Briggs, Manager Sandy Nadwodny, 1st base Debbie Claycomb, utility Lisa Van Fossen, Left-fielder Claire Finley.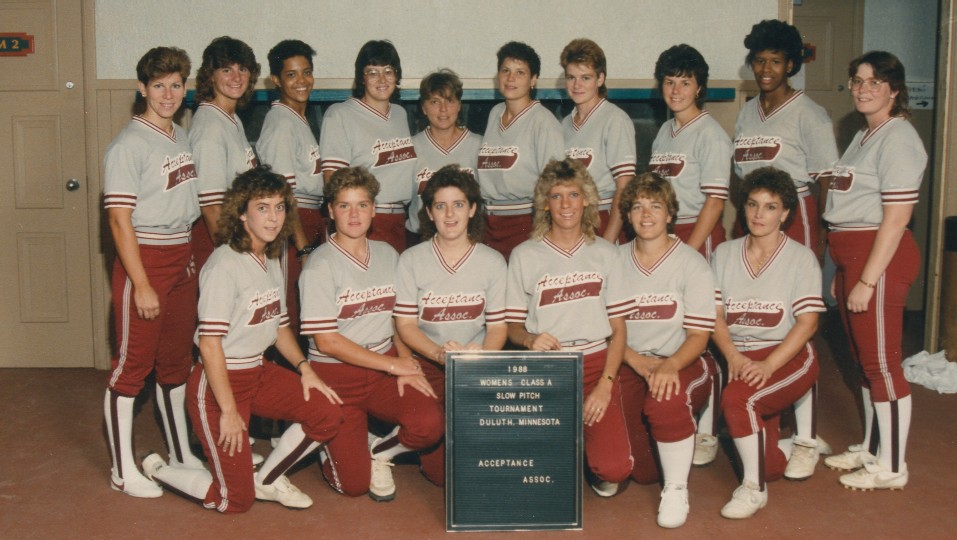 Here is their 1988 team as follows: Front row - left-center fielder Lorraine Lasorsa, utility Chris Speer, infield Sharon Brennan, outfield Lisa Schmitt Bateman, infield Linda Goss, pitcher Maria DiBernardi. Back row - right-center fielder Frankie Collins, left fielder Vicky Sasek, utility Ros Bugg, 1st base Debbie Claycomb, Manager Sandy Nadwodny, short stop Sandi Narciso, infield Chris DiVeniero, 3rd base Paula Kurkowski, Right fielder Michele "Stretch" Washington, catcher Claire Finley.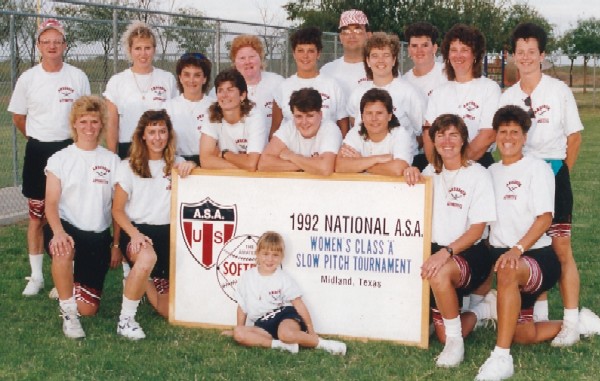 Here is the 1992 Anderson Auto team that came in second in the ASA of PA Class-A States. They also came in second in the Women's Class-A National Championship. The team as follows: Front row kneeling and leaning on sign from left to right: ??, Lorraine Lasorsa, Sonia Pez, ??, Scrap, Bonnie (short stop), Marianne Kempf. Back row standing up straight from left to right: Coach John Walsh, Jessie (Bean) Beswick, Maria DiBernardi, Jen Rice, Mel Papasurgi, Manager Brian Beswick, Linda Goss, Debbie Hartrant, Dawn Mengel, Debbie (Dolga) Reinert. Bat girl: Dianna DiBernardi.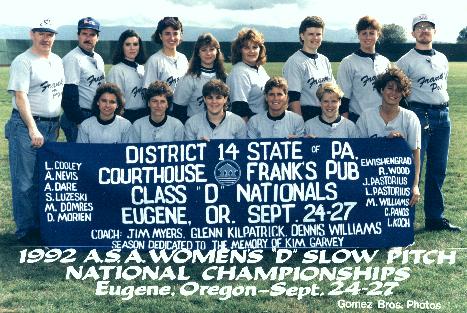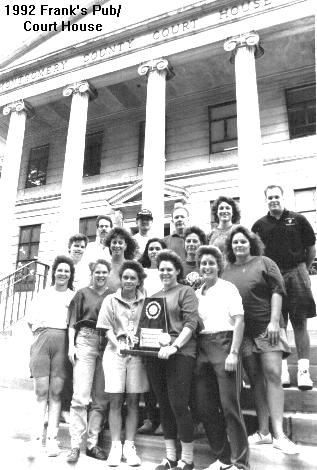 Jimmy Myers took this group to the runner up spot in the ASA of PA state championships. They then traveled to the ASA Nationals. The team played the whole season in honor of Kim Garvey, who died after a long illness. They were sponsored by Frank Gallo of Frank's Pub.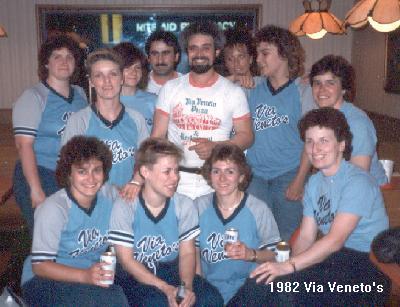 This group of women competed in the Norristown Women's league and the Conshohocken Women's League back in the 1980's. Here is a photo at Via Veneto's who was one of their sponsors. They were led by Bocky Lare, Lynn Gray Patterson, Linda Lemeui and the late Jackie Small Agnes. These girls were all close friends and enjoyed the game. They still get together for old timers games and other functions.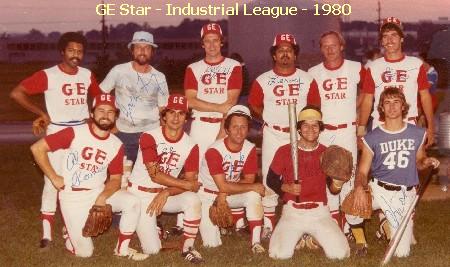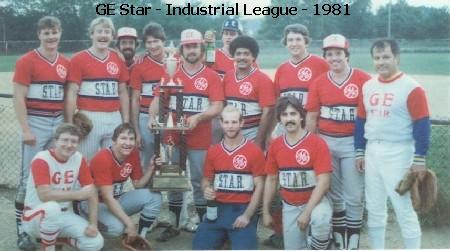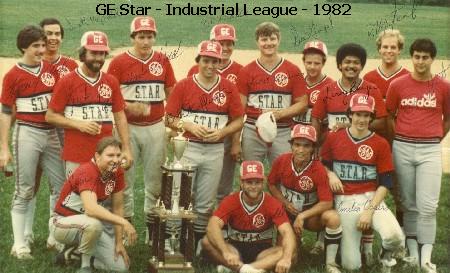 These guys played together for many years in the old King of Prussia Industrial League. The General Electric Team managed by Jack Fry was known as GE Star and had many great players on their team. The won the Industrial League in back to back years (1981 and 1982) before falling short in the final year of the league's existence in 1983.
---
©1998 Steve Dimitry, all rights reserved.
Email: sdimitry@verizon.net