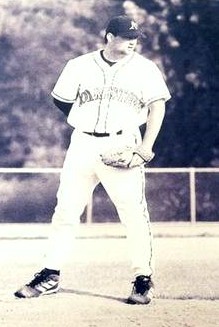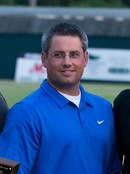 Eric Fisher- Eris Fisher starred at Plymouth Whitemarsh and was one of the stars of the 1994 PW team that shocked even themselves by claiming the Pennsylvania State PIAA High School Championship. Fisher was the winning pitcher and drove in the game-winning run in the state-final game. He later went on to star at Eckerd College in Florida and spent two seasons in independent ball with franchises in both Sioux Falls, S.D. and Allentown, where he played against the likes of future Detroit Tigers catcher Matt Nokes, the infamous J.D. Drew and current San Francisco Giants pitcher Ryan Vogelsong. He was a gifted and athletic shortstop with a cannon arm, who could hit for power and average And was also an outstanding pitcher. Began his career out of high school in 1994 where he played 2 seasons with the Lansdale Tigers, Before moving to Norristown A's in 1996. He Played a total of 15 seasons: 1994-97; 2000-08,10 and 12. Led league in batting in 2002 (.493) and his 13 doubles were tops too. Became Player/Manager of the Norristown A's 2006-07. He was a Perennial Perky All-Star. He won 8 League Championships in his career, including 7 in a row with the Norristown A's. He was great athlete who could pitch and hit and the higher the stakes, the better he played. This is evident by the fact that of the 8 titles he won, 4 of those times, he was the Final Series MVP. He also played on 4 Championship series runner-ups.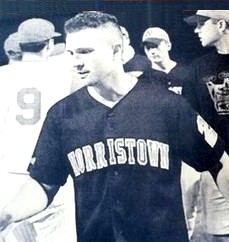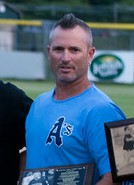 Frank Monastero - After starring at Bishop Kenrick, Monastero was signed as a free agent by the Cleveland Indians and spent a year in the Indians organization where one of his friends was Jim Thome, and he played against future Braves Hall of Famer Chipper Jones. He was a pure hitter. Frank was the heart of the greatest Norristown A's dynasty. He is remembered as an explosive run producer who could win a game with his bat or his speed. He was a loyal and generous teammate. Played a total of 19 seasons with four different teams: Harleysville Hornets 1988-89; Upper Merion Vikings 1990-92; Lansdale Tigers 1993-95 and Norristown A's 1996-06. Was League MVP in 1995 with a .494 average and also led the League in hits (41), runs (34) and stolen bases (18). After Lansdale had been beaten beaten by Collegeville in the 1995 final series, he joined the Norristown A's the following year in 1996 and they proceeded to win 7 straight titles. He led them to two more for a total of 9 League Championships. He also was a 3-time Playoff championship runner up. Was league MVP Runner up and Second in batting title with .456 average in 1999. Won League batting champion in 1991 (.489). In 1996 was 3rd in batting with .402 average, 2001 again led the league in hits with 43, 2002 was 5th in batting with .446 average, 2003 was 4th in batting with .488 average and in 2005 was 5th in batting with .400 average. It seemed that every year when the league stats came out, Frank Monastero could be found in the list of Batting leaders. He was a League MVP Award recipient and three-time MVP Runner-up. He also played for teams that won 3 Harrisburg Memorial Day Tournaments, 4 Harrisburg Firecracker tournaments and 3 York Colonial tournaments. Frank had a rare combination of speed and power that may never be equaled again. He has been the Owner of the Norristown Diamonds Perky Franchise since 2012-present. Not surprisingly, he coaxed legendary Manager Vince Elsier to come out of retirement and Manage the Diamonds. Now he can be called a Championship Owner also as the Diamonds captured the league title in 2013, after losing in the final series in 2012.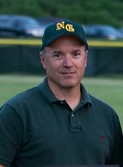 Tom Christy - Tom Christy began his career with the North Wales Whalers in 1984. He had been a four year starter at West Chester University. He pitched a game against Jaime Moyer in American Legion and had won. He had compiled a 13-2 record at North Penn High School while striking out a school record 136 batters. And while a tryout with Pittsburgh didn't pan out, he made a name for himself in the Perky league. He was one of the most dominating pitchers around. He will go down as one of the greatest pitchers in this league's history. Twice he flirted with perfect games taking them into the 7th inning only to have them turn into 1 hitters. He led the league in Strike Outs over 5 times. He accumulated the most strikeouts in league history. Played a total of 20 seasons with three different teams: North Wales Whalers/Nor-Gwyn Packers 1984-85, 1988-1997, Norristown A's 1998-2000, Souderton Warriors 2001-2004 and finished his career where he started in 2005 with the Nor-Gwyn Packers In 1994, his 3 hit shutout and 12 strikeouts over Lansdale was followed by a one hitter and 15 strikeouts against Trooper. In 1995 he was named Perky league pitcher of the year with a record of 8-1. In 1998 struck out 16 batters in a 7 inning game against Lansdale, prompting his then head coach Perky League hall of famer George Hoffman to exclaim, "Why couldn't he had gotten the other five". Counting regular and post season games from 1998 into 2000, Was undefeated over the span of 22 games, including a perfect 8-0 season in both 1998 and 1999. Also in 1998 he helped the Norristown team to win the Colonial York tournament and was named outstanding pitcher of the tournament. He was a Two-time pitcher of the year in 1995 and 1999, while finishing runner-up in 1998. The only thing Tom Christy had to prove was whether he could be better on a team like Norristown. Yes, his Nor-Gwyn team had miraculously won the playoff championship over Norristown in 1990, but even he had to admit that too often he was pitching to get four or five out an inning. And so in 1998 he said yes to the idea perhaps he could still be even better, he then moved to Norristown. He was a Perennial Perky League All-Star. Winner of 4 Perky League Playoff Championships and 1 runnerup.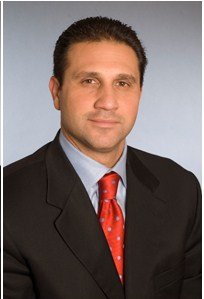 Dan Chieffalo - The "Chief", as he was often called, Dan Chieffalo was a standout in his hometown of Scranton, earning All-Region honors at Bishop Hannan High School and All-American honors at the University of Scranton. He won the 2000 league batting crown with a .541 average, he also hit 8 HRs and had 36 RBIs. He was runner-up MVP that year. He was always in the Top-10 in just about every offensive stat. And yes, he too, was part of the Norristown dynasty winning 9 Perky League Playoff Championships, including a league record 7 straight. He Played a total of 9 seasons with Norristown A's: 1995-2006.
2015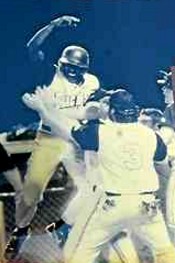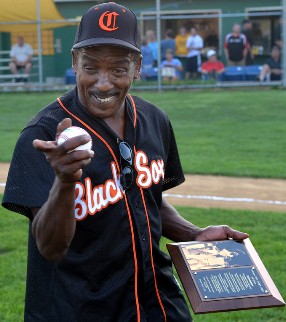 Fred Faison - While the Perkiomen Valley Twilight League finals was far too short, at least it produced a memorable Hall of Fame induction. Fred Faison, all of 64 years young, who stopped playing for Collegeville just one season ago, went in by himself, a fitting tribute to a man who spent 38 years in the league - all as a player. "It feels pretty good, but I don't know that it's all sunk in yet," said the living legend. "It was nice to be recognized that way, and it was nice getting texts from guys like Todd Moyer, who said, 'Welcome to the club.' Faison said he first heard of the induction back in March when Collegeville owner Carl Meixner called him with the news. "I'd been joking with (former league president) Ben Enters about when I was going in, and he'd always tell me that I had to stop playing first." Faison finally did that this year, stepping aside when the preparation for the season became just too much to endure. "In recent years, the getting-in-shape part of playing was getting harder," he said. "It got to be that chore wasn't worth the effort to keep playing." As for memorable Perky moments, Faison said championships like those in 1977 (his first of a record 22) were always memorable, but it was the players he played with and against over the years that made the run special. "What I remember best are the guys I shared the dugout with at Collegeville all those years," he said. "Ninety-nine percent of the guys I played with were the best teammates you could ever ask for. "The guys I got to play with and got to know are more memorable than any game or championship we won." As for his future, Faison said he'll take things a day at a time. "It was a good run," he said. "These days I'm just happy to be alive, and I can't wait for the next day." Faison added that he has an itch to become a coach, especially at the lower levels of baseball. "I'm going to try and coach Little League next year," he said. "I thought I'd prefer coaching at the Junior Legion level, but I think I can help more at the Little League level, and I think that would be more gratifying." And while some would like to see Faison suit up one more time, he said that prospect is remote. "I'm pretty sure there'll be no comebacks," he laughed. After winning 22 League Championships, a record that may never be beaten. He was human though, he lost in the finals four times.

2016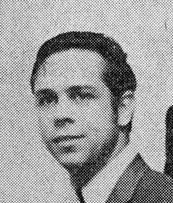 Robert 'Corky' Cutberth - Corky Cuthbert played with Lansdale for 15 seasons (1960-74) and led the Tigers to six championships (1960, 62, 65, 67, 68, 69). He was a three-time batting champion, in 1960, he batted .462, outdistancing the next hitter by .54 points. In 1968, Cutberth hit .392 to win his second batting crown. Then in 1970, he won his last batting championship with a .426 average. He also led the league in Home Runs with 7.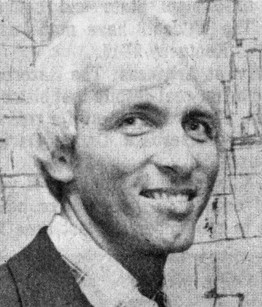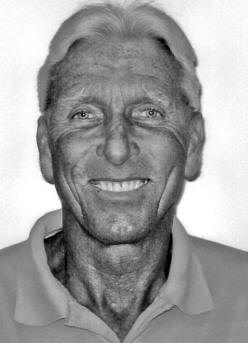 Barry Troster- Troster played with Lansdale from 1963-70 and with North Wales from 1971-80 and won five Perky championships (1965, 67, 68, 69, 71). He was a two-time Pitcher of the Year (1974, 1975) and in 1977 was the league MVP and batting champion (.500). Troster is one of only two players to win both the batting title and the Pitcher of the Year award. In 1974, Barry Troster was the Pitcher of the Year award for the Perky League with a 10-0 record. He also batted .416 on the year. In 1977, he was the league MVP with a .500 Batting Average and a 7-1 pitching record. He later coached both baseball and girls basketball at Upper Dublin High School. He graduated from North Penn High School in 1962 and is inducted into the North Penn Hall of Fame. He was Team Captain, MVP and All Bux Selection in Basketball and Baseball. He went on to Ursinus and played both sports there as well, was selected to the All-Middle Atlantic Conference team three of his his four years. He led the MAC in hitting and was MVP in 1966. He scored 1358 points in Basketball and was later inducted into the Ursinus College Hall of Fame for Basketball and Baseball.
---
Here is a little story told by Hall of Famer Bobby Altieri about the beginnings of the A's Dynasty:
When the 1998 season rolled around Bob lobbied Vince to bring Frank Monestero on board. As a pitcher, Bob had trouble getting frank out in legion and thought he would be a great addition. And it was. It led to a great infield combination, a life-long friendship and being God-parents to each other's kids. Together Bob and Frank would move to the Upper Merion franchise as Vince had departed to Norristown and Upper Merion was closer to Conshohocken where Bob was from and an easier commute for Frank who was now at West Chester University. Frank got drafted in 1990 by the Indians and spent most of the season in Single A ball splitting time between the Gulf Coast league and Appalachian league. In 1991 Frank was back with upper Merion which was the Indians loss and the Perky League's gain as Frank batted .489 and won the league's batting crown. And who was runner up? It was Bob who batted .474. And in the push-me pull-you bond that would characterize their days later at Norristown, where Frank led the league in hits and doubles. But the most important part of the story is that solidified the core of Upper Merion and in 1992 helped the Vikings get to the playoff finals where they were promptly swept away by some team from Collegeville. In 1993, this duo moved to Lansdale at the request of Bob's brother in law. In 1993, Bob finished third in the batting race and again led the league in hits. Frank finished 6th in batting and again led the league in stolen bases. In 1994, Bob became the manager of the Lansdale Tigers. Bob's brother Matt and several of his friends were on the Plymouth-Whitemarsh baseball team and they were a very talented bunch. Talented enough that they won the State title. Having been coached by Bob as a member of the state team a young Eric Fisher remembers it like this. It wasn't a question as to if and where we were going to play in the perky league- we were told. Fish split time at Lansdale as he was still playing Legion ball at Whitemarsh where he had been pitcher of the year in 1993 and would be Offensive Player of the year in 1994. But the young talent made an immediate impact as the Lansdale team went to the playoff semi-finals but lost to Nor-Gwyn. In 1995, bob won the league batting title with a .477 average and led his team to the playoff finals only to be swept once again by Collegeville. All Frank did in 1995 was win the league MVP award leading the league in hits, runs and stolen bases. At the conclusion of the 1995 season Bob and Frank journeyed with the Norristown team to the York Colonial tournament and did what any good manager would do and look around and assessed his current team. Lansdale had the runs to compete but they needed some more veteran pitching. Playing with Norristown, he saw a team that had pitching but could use some young power at the plate. And a proposition was made; discussed; accepted and the Norristown team was born. As player manager of Norristown in 1996, Bob struggled a bit as he juggled playing with a managing amidst the great expectations of victory and his batting average dropped a hundred points. And, while batting .382 ain't too shabby, frank finished 3rd in the league batting race hitting .402. But in the end it was all worth it as Norristown defeated Skippack for its first Championship in five year and his first championship in 10 years.


Marc Brockell
HR BI Avg 2B H AB R BB OBA
1997 played only part time.
1998 11 41 0.515 10 52-99 30 20 0.605
1999 15 51 0.610 10 61-100 41 22 0.680
2000 4 28 0.429 11 39-91 30 21 0.536
2001 4 22 0.449 11 40-89 33 20 0.550
2002 6 42 0.516 9 47-91 31 13 0.577
2003 6 27 0.400 1 38-95 33 12 0.467
2004 5 37 0.379 11 36-95 27 6 0.416
2005 2 36 0.488 8 42-86 20 17 0.573
2006 4 35 0.447 3 38-85 18 10 0.505
2007 2 12 0.329 2 23070 17 16 0.453
total 59 331 0.462 66 416 901 280 157 0.542



---

Some Moments in time .........
FIRST EVER PVTL All League Team: 1969 (selected by secret ballot of managers)
P - Barry Troster, Lansdale 5-2, 53.1 IP, 59 Ks, 8 BBs
P - Dave Livezey, Harleysville 8-3, 72.1 IP, 56 Ks, 25 BBs, 8 Sacs
P - Jim Berry, Skippack 8-3, 74.2 IP, 45 Ks, 31 BBs
P - Tom Barrow, Souderton 9-6, 94.1 IP, 88 Ks, 33 BBS
C - Steve Miller, Harleysville 37-79, .458, 11 HRs, 30 RBIs, 29 Rs
C - John Carrado, Lansdale 32-95, .337
1B - Ken Fidler, Skippack 30-81, .370, 8 2Bs
2B - Leo Schnalzer, Harleysville 22-78, .282, 8 SBs
3B - Paul Dewey Goetter, Lansdale 24-80, .300
SS - Ben Hammel, Lansdale 18-80, .225
LF - Dave Webb, Skippack 29-69, .420
CF - Corky Cutbert, Lansdale 28-86, .326
RF - Wils Kulp, Collegeville 31-72, .430, 24 BBs
Utility Players
IF - Steve Moyer, Harleysville less then 65 PAs
IF - Dave Seitz, Souderton 23-76, .302
OF - Gerry Hunsicker, Collegeville 38-83, .458
OF - Ron Erb, Souderton 19-61, .292
1974 PVTL All League Team
First Team
P- Charley Prediger, Lansdale (6-2, 0.99 ERA)
C - Bob Stewart, Lower-Gwynedd (.393)
1B- Mark Hollenbach, Souderton (.418)
2B- Mark Eddinger, Collegeville (.365)
3B- Dave Kurtz, Collegeville (.314)
SS- Eddie Oswald, North Wales (.368)
OF- Barry Troster, North Wales (.416, 10-0)
OF- Ron Erb, Lansdale (.509, 7 HRs, 28 RBIs, 14 SBs) - Triple Crown
OF- Bobby Plank, Lansdale (.343)
Second Team
P- Barry Troster, North Wales (10-0, 0.90 ERA)
C- Boby Hager, Souderton (.243, All Star MVP)
1B- John Baker, Skippack (.390)
2B- Denny Robison, Souderton (.307)
3B- Al Frick, Souderton (.300)
SS- Bob Marberger, Lower-Gwynedd (.333)
OF- Rich Rodegherio, Souderton (.348, 9-0)
OF- Craig Levengood, Collegeville (.247)
OF- Scott Houser, North Wales (.340)

1977 PVTL All-League (selected by the Managers)
P - Frank Speilman, Collegeville 7-1, 57.1 IP, 31 Ks, 28 BBs, 1.72 ERA
P - Tim Todd, Collegeville 8-2, 65.1 IP, 34 Ks, 19 BBs, 1.50 ERA
P - Glen Sypherd, Perky Township 7-3, 62.0 IP, 64 Ks, 53 BBs, 2.36 ERA
P - Rick Budweg, Lansdale 8-4, 70.1 IP, 63 Ks, 58 BBs, 3.00 ERA
C - Steve Miller, Harleysville 23-57, .403, 16 RBIs, 18 Runs
1B - Scott Houser, North Wales 41-87, .471, 34 RBIs, 9 Runs
2B - Ed Seiple, Collegeville 21-59, .356, 8 RBIs, 12 RUns
3B - Al Frick, Souderton 28-75, .373, 26 RBIs, 18 Runs
SS - Phil Butler, Souderton 35-79, .443, 23 RBIs, 25 Runs
SS - Craig Eddinger, Collegeville 24-57, .421, 11 RBIs, 24 Runs
OF - Greg Vermeesch, Collegeville 25-77, .325, 16 RBIs, 16 Runs
OF - Tom Mastromatto, Lower Gwyndedd 36-87, .413, 21 RBIs, 20 Runs
OF - Dave Strawhacker, Lower Gwyndedd 22-58, .379, 4 RBIs, 13 Runs
OF - John Cunningham, North Wales 32-81, .395, 18 RBIs, 26 Runs
OF - Barry Troster, North Wales 31-62, .500, 17 RBIs, 17 Runs

1981 All League Team (selected by the Managers)
P - Tommy Williams, Collegeville
P - Gaylen Royer, Collegeville
P - Charlie Prediger, Lansdale
P - Paul McKernan, Jr., Norristown
C - Scott Lanz, Collegeville
C - Jay Price, Souderton
1B - Doug Slotter, Skippack
2B - Bob Pellechio, Norristown
3B - Joe DeFusco, Collegeville
3B - Butch Denczi, Norristown
SS - Ed Seiple, Collegeville
OF - Alex DiNolfi, Norristown
OF - Greg Vermeesch, Collegeville
OF - Randy Kurtz, Collegeville
OF - Keith Alderfer, Harleysville
OF - Ron Moorehead, Skippack
Top-50 sent in by un-named person
P - Tom Christy, North Wales
P - Art Landis, Harleysville
P - Bob Arner, Souderton
P - Jim Bergey, Harleysville
P - Charlie Prediger, Lansdale
P - Carl Wismer, Souderton
P - Denny Ames, Skippack
P - Roy Gaugler, Schwenksville
P - Tom Barrow, Souderton
P - Frank Spielman, Collegeville
P - Jared Lenko, Collegeville
P - Brandon Bruno, Plymouth
C - Butch Denczi, Norristown
C - John King, Skippack
C - Steve Miller, Harleysville
C - Jim Randolph, Norristown
1B - Dave Kurtz, Collegeville
2B - Frank Monastero, Norristown
2B - Chris Loschiavo, Norristown
3B - Jesse Hodges, Lower-Gwynedd
3B - Alan Frick, Souderton
SS - Ed Seiple, Collegeville
SS - Eric Fisher, Norristown
SS - Tom Szilli, Collegeville
IF - Bob Pellechio, Norristown
IF - Carl Motts, Souderton
OF - Matt Altieri, Collegeville
OF - Glenn Webb, Skippack
OF - Dewey Goetter, Lansdale
OF - Greg Vermeesch, Collegeville
OF - Randy Kurtz, Collegeville
OF - Corky Cuthbert, Lansdale
OF - Ron Moorehead, Skippack
OF - Alex DiNolfi, Norristown
OF - Ron Erb, Souderton
EH - Wils Kulp, Collegeville
EH - Marc Brockell, Norristown
UT - Al Warner, Nor-Gwyn
UT - Bob Altieri, Norristown
UT - Dan Chieffalo, Norristown
UT - Todd Moyer, Collegeville
UT - Paul Lepre, Norristown
UT - Dave Webb, Skippack
UT - Barry Troster, North Wales
UT - Jim Fazio, Collegeville
UT - Matt Sperling, Norristown
UT - Fred Faison, Collegeville
UT - Walt Maute, Schwenksville
UT - Bob Warren, Collegeville
---
Perkiomen Valley Twilight League All-Star Games