TNT Sports Club 2010
Charles "Sonny" Termine
Amateur Softball Association National Championships

International Senior Softball Association World Championships

Amateur Softball Association State Championships

Other Tournament Results
---
Amateur Softball Association (ASA) National Champions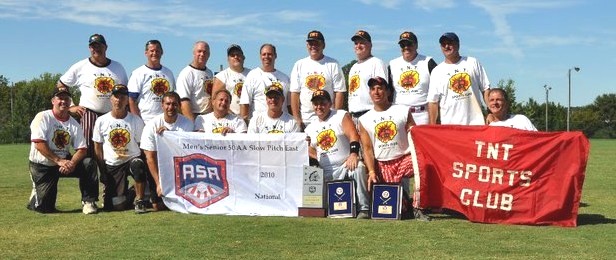 ASA National Champion Team Members:
Kneeling; Leo Fitzpatrick, Carman Loiacono, Dywane Impeciati, Bill Pezzotti, John Hickman, Dean Finch, Jim Saldutti, Sonny Termine
Standing; Jim Reisman, Bob Foley, Dennis Reagan, Steve Dimitry, Steve Calabrese, Rob Wisner, Ken Capellim Mike Corliss, Scott Downs
Tournament Name: ASA Men's Senior Class 50 AA Slow Pitch National Championship
Location: Burlington, North Carolina
Date: 9/3/2010 to 9/6/2010
FINAL STANDINGS
| | | | | |
| --- | --- | --- | --- | --- |
| Place | M/R | Team Name | Hometown | Record |
| 1st | | TNT SPORTS CLUB | Norristown., PA | 5-1 |
| 2nd | | GOLDEN VIPERS | Washington, MI | 3-2 |
| 3rd | | GRILL 584/MIKEN | Burlington, NC | 3-2 |
| 4th | | GARNER LUMBER | Huntington, PA | 2-2 |
| 5th | | ANN ARBOR RELICS/BANKER BUILDERS | Ann Arbor, MI | 1-2 |
| 5th | | TIDEWATER TITANS | Chesapeake, VA | 1-2 |
| 7th | | F&S GUTTERS | Burlington, NC | 0-2 |
| 7th | | STATE COLLEGE LEGION POST 245 | State College, PA | 0-2 |
Pool Play Results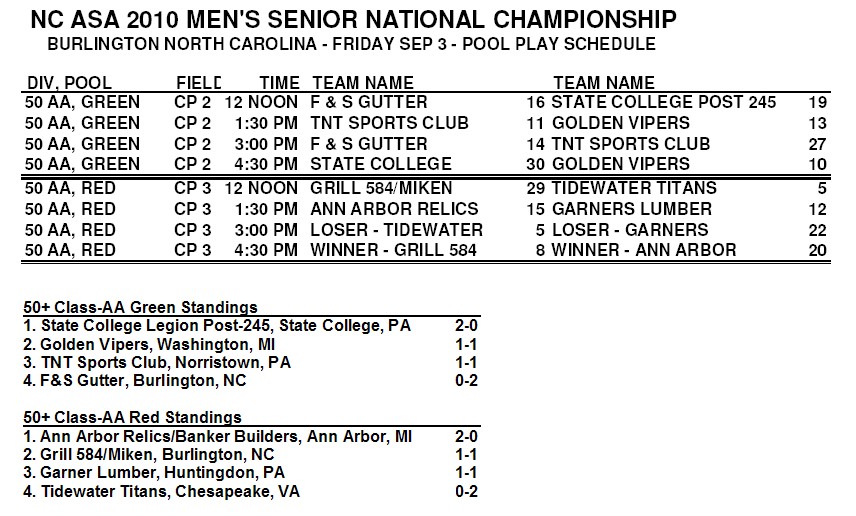 Championship Bracket Results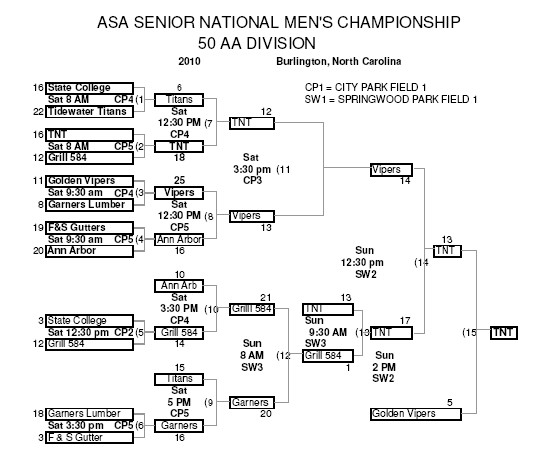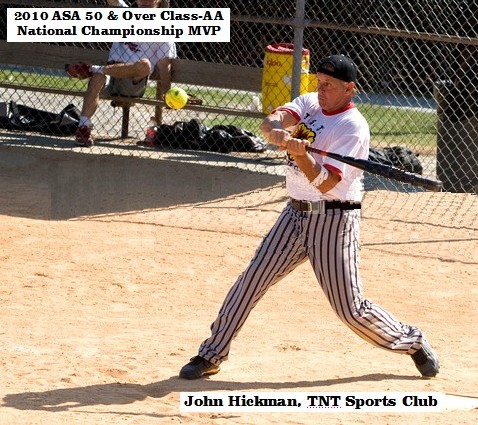 Tournament MVP - John Hickman (19-26, .731)
Batting Champion/Offensive MVP - Steve Dimitry (21-24, .875)
Home Run Champion - Bob Foley (16-25, .640) - (3 Home Runs)
ASA All-America Team
| | | |
| --- | --- | --- |
| Pitcher | Wisner, Rob | TNT Sports Club |
| Outfield | Reagan, Denny | TNT Sports Club |
| Outfield | Capelli, Ken | TNT Sports Club |
| Outfield | Keller, Roger | Garner Lumber |
| Outfield | Finch, Dean | TNT Sports Club |
| Outfield | Hickman, John | TNT Sports Club |
| Utility | Foley, Bob | TNT Sports Club |
| Utility | Greer, Robert | Golden Vipers |
| Utility | Detwiler, Denny | Garner Lumber |
| Utility | Vaughn, Ricky | Grill 584/Miken |
| Utility | Maddy, Mick | Golden Vipers |
| Infield | Dimitry, Steve | TNT Sports Club |
| Infield | Johnson, John | Golden Vipers |
| Infield | Burger, Bob | Golden Vipers |
| Infield | Thompson, Paul Kirk | Grill 584/Miken |
| Infield | Springfield, Otis | Grill 584/Miken |
All-American Statistics- Ken Capelli (18-24, .750), Denny Reagan (16-26, .615), Dean Finch (16-24, .667), Rob Wisner (8-14, .571)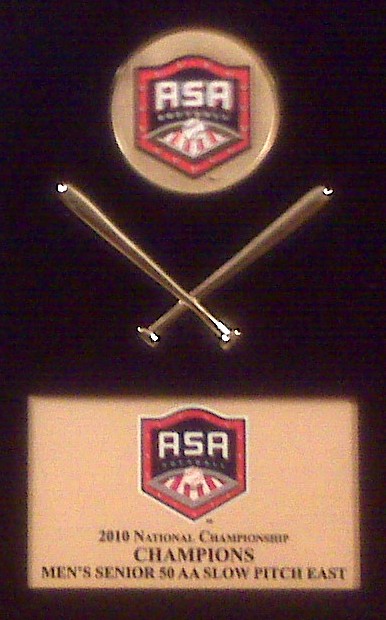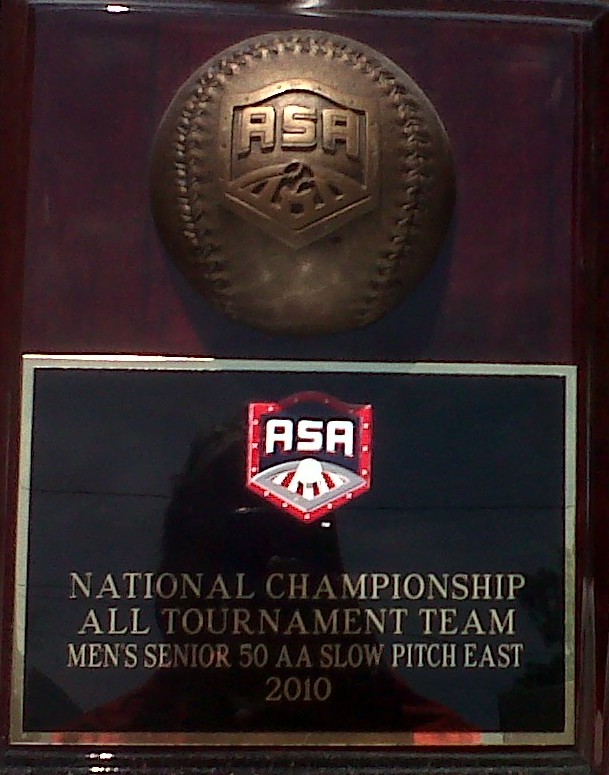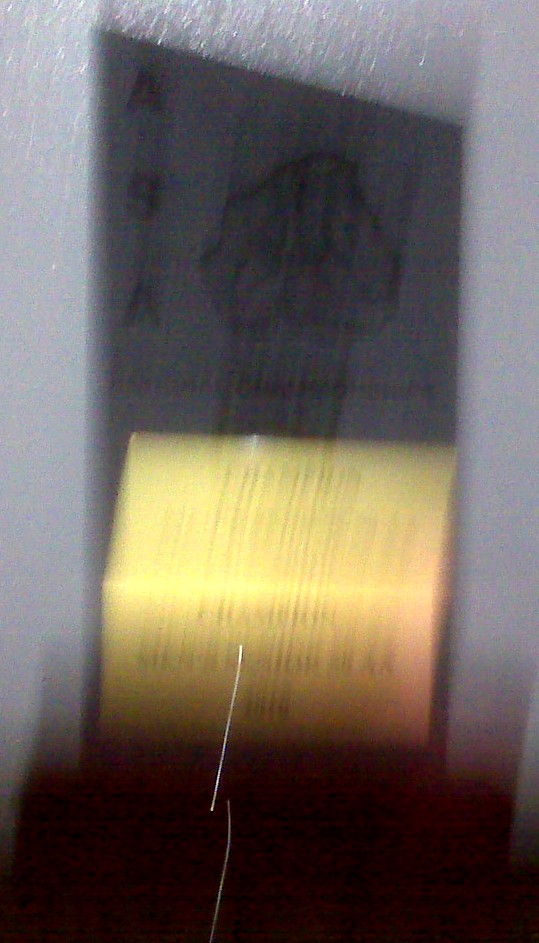 TNT Sports Club wins National ASA Softball Title

TNT Sports Club's 50 & Over Softball team of Norristown, managed by Sonny Termine traveled Burlington, NC to compete in the ASA National Championships. And when all was said and done, they came home National Champions. The tournament started with each team playing two "pool games" to determine bracket seeding. They lost to the Golden Vipers of Michigan 12-11. Bill Pezzotti cracked a homer, while John Hickman and Steve Dimitry both went 3-3. In the second game, TNT rolled over F&S Gutterworks on North Carolina 27-15 as Jim Reeseman's 4-4 led the way along with Bobby Foley, who homered and had 4 RBIs. Ken Capelli and Dean Finch each chipped in with 3 hits.

The Double Elimination Championship Round started with TNT defeating North Carolina's Grill-584. In a tough fought game, the Sportsman came away with a 16-11 victory behind Bob Foley's home run and 6 RBIs. Reeseman, Pezzotti, Finch and Dimitry all had 3 hits apiece. In the second game, TNT rolled over the Tidewater Greyhounds of Virginia 18-6. The infield of 3B-Jim Saldutti, SS-Scott Downs and 2B-Carmen Loiacono turned in some fantastic defensive plays to back the pitching and sensational defense of Rob Wisner. Next up was TNT's arch-nemesis, Michigan's Golden Vipers who once again defeated TNT 13-12 and sent them to the loser's bracket. Duane Impeciati and Jim Reeseman each had 4 RBIs and Ken Capelli and Steve Dimitry were 4-4 to lead the offense that fell just short with the tying and winning runs on base as the last out was made.

Once in the loser's bracket, TNT faced Grill-584 once again and behind the unbelievable 3 hit pitching of Rob Wisner, the Sportsmen advanced with a 13-1 victory. The offense was led by Denny Reagan and Steve Calabrese, both going 3-3. Dean Finch's 3-run homer ignited the team and shortstop Scott Downs once again was incredible on defense. TNT has now advanced to the Championship round and had a tough task of defeating the only team to beat them thus far in these National Championships, none other than the Golden Vipers of Michigan, who earlier in the month won the USSSA 50+ National title.

TNT came out of the gates banging and then held off a furious rally by the Michigan squad to now take the first championship and take the national title to a deciding "if" game to decide all the marbles. Steve Dimitry went 4-4, while Impeciati (a monster home run) and Reagan combined for 6 hits and 8 RBIs. Capelli, Pezzotti and Wisner were 3-3. Now in the final Championship Game, TNT showed the heart of a Champion as they rallied behind an early 3-run blast by Bob Foley and that momentum carried them to a easy 13-5 victory. Dimitry, Hickman and Downs were all 3-3 and Wisner once again shut down the opponent with his array of pitches.

The team was awarded the ASA National Championship Banner and all the players received a National Championship Plaque and Championship jackets were ordered also. Left Center Fielder John Hickman (19-26, .732 avg and 9 RBIs) was named the National MVP as he led-off and played flawless defense. Steve Dimitry was awarded the National Batting Championship going 21-24 for a .875 average (he also collected 12 RBIs). Dimitry was named to the ASA National All-American as was Hickmen and also joining them on the team were Ken Capelli (18-24, .750), Denny Reagan (16-26, .615 and 15 RBIs), Bob Foley (16-25, .640 with a tournament leading 18 RBIs), Dean Finch (16-24, .667 with a HR and 10 RBIs) and last but not least, the glue of this team, Pitcher Rob Wisner, whose incredible defensive ability at the Pitcher's position made the difference between winning and losing. Other Team members include Bill Pezzotti (13-24, .524 with a homer), Scott Downs, Duane Impeciati (16 RBIs), Jim Reeseman, Carmen Loiacono, Steve Calabrese, Jimmy Saldutti, Mike Corliss and Leo Fitzpatrick.

TNT Sponsor and Manager Sonny Termine and his TNT squad have won the ASA of PA State Championship earlier in the Season [Joe Bonavita-MVP (12-14, .857), along with All-State performers; Bill Pezzotti (12-17, .706), Bob Foley (15-18, .833), Steve Dimitry (13-18, .722), Denny Reagan (10-15, .667)] and also the ISSA Senior World Championship in Manassas, VA [Scott Downs-MVP (13-18, .722), Bruce Cavalotti (15-20, .750), John Hickman (17-23, .739), Ken Capelli (16-22, .727), Jimmy Saldutti (11-17, .647 and Carmen Loiacono was named the Defensive MVP). Not bad for a summer's worth of work. The team recently traveled to Virginia Beach and finished 5th in the ISSA Winter World Championships (Jim Reeseman 10-14, .714 was named to the All-World team). Termine said "this team is not built around one player, each and every guy does his part on any given weekend and thats what makes us winners". Termine dedicated the ASA National Title to his beloved sister who was very ill and passed away a week after the Tournament.
---
International Senior Softball Association (ISSA) World Champions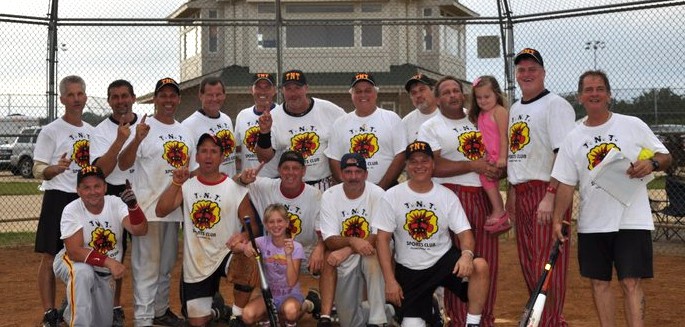 ISSA World Champion Team Members:
Kneeling; Dean Finch, Jim Saldutti, John Hickman, Taylor Finch, Scott Downs, Joey Bonavita
Standing; Carman Loiacono, Dywane Impeciti, Steve Calabrese, Bob Foley, Bruce Cavaloti, Jim Reisman, Lou Lussi, Steve Dimitry, Bill Pezzotti, Sophia Pezzotti, Ken Capelli, Sonny Termine
Tournament Name: ISSA Men's Senior Class 50 AA Slow Pitch World Championship
Location: Manassas, Virginia
Date: 8/13/2010 to 8/15/2010
FINAL STANDINGS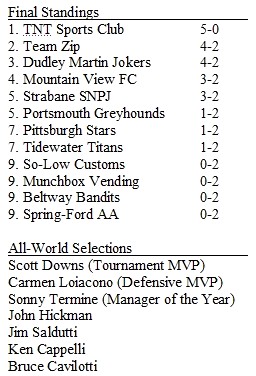 All-World Statistics- John Hickman (17-23, .739), Jim Saldutti (11-17, .647), Ken Capelli (16-22, .727), Bruce Cavalotti (16-20, .800)
MVP Scott Downs, Shortstop (13-18, .722)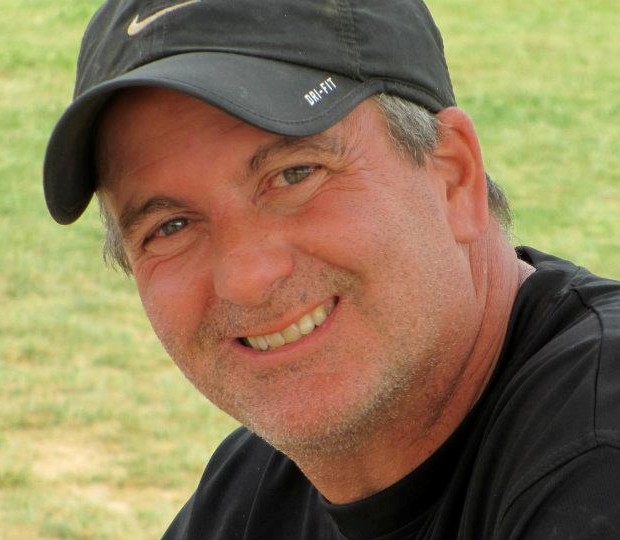 Pool Play Results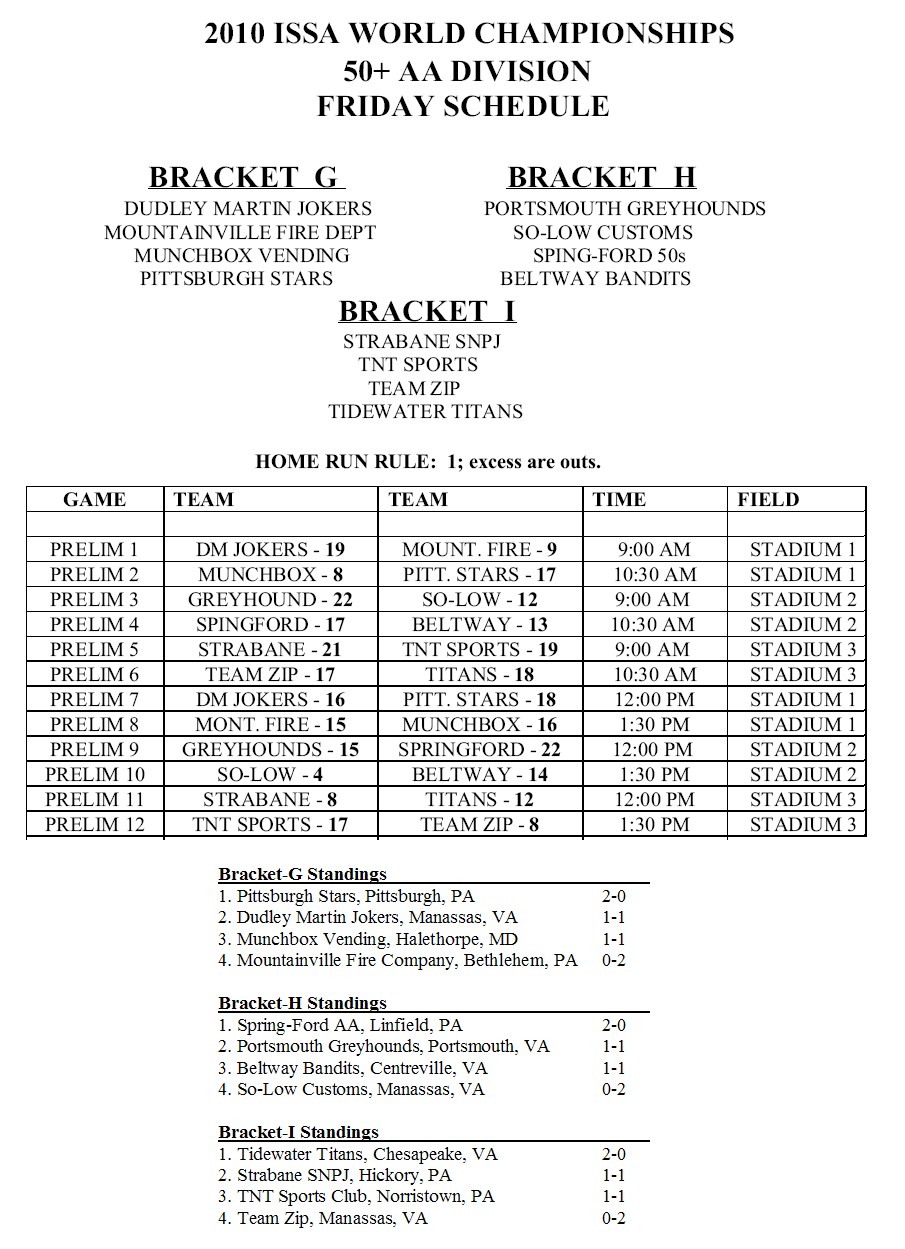 Championship Bracket Results
ISSA WORLD CUP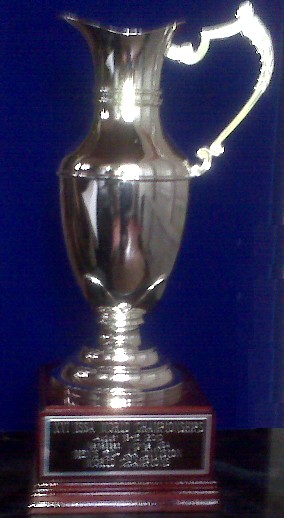 Sonny Termine - ISSA Manager of the Year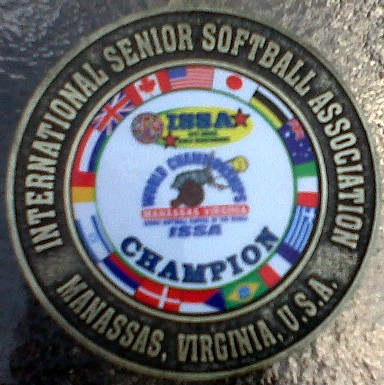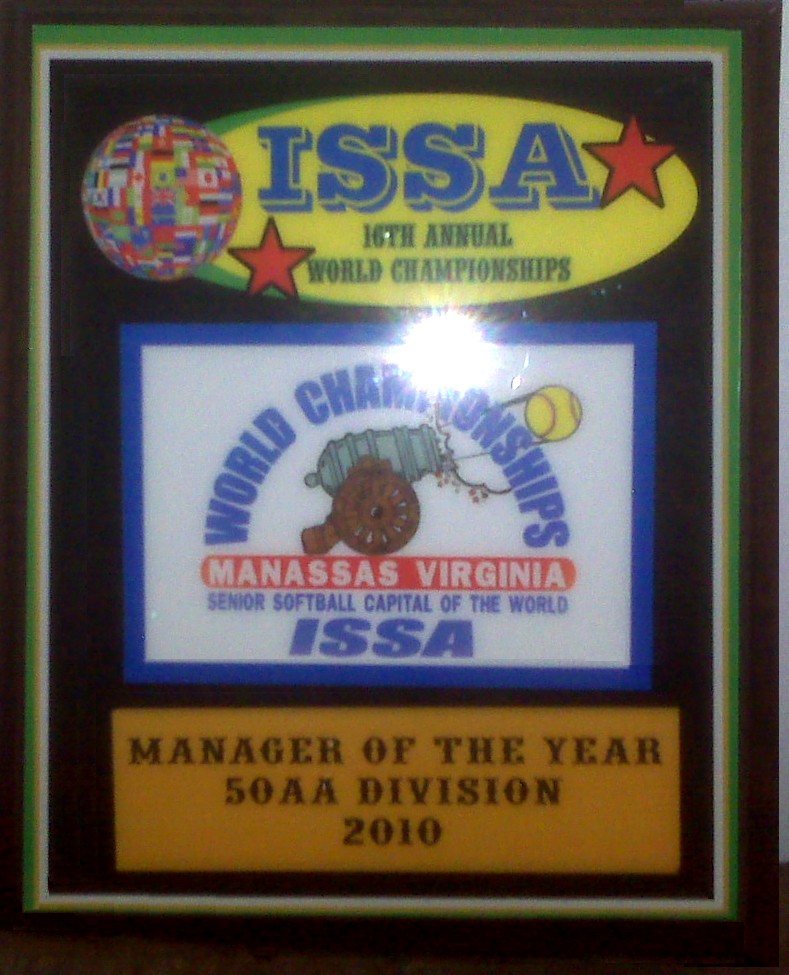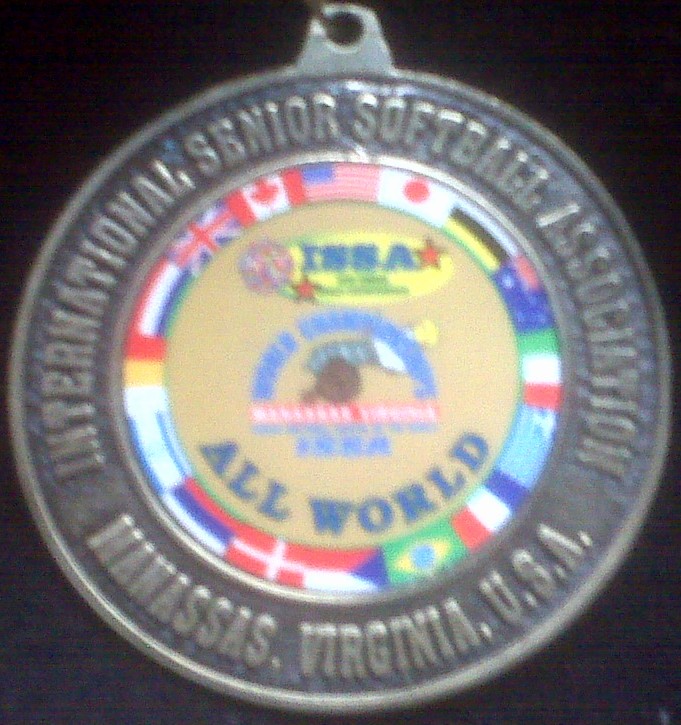 TNT Sports Club Wins ISSA World Softball Title

TNT Sports Club of Norristown struck again last weekend in Manassas, VA, winning the coveted International Senior Softball Association (ISSA) World Championship in the 50 & over Class-AA Division. The Firecracker men started off their title run on the bad note as they lost the first game of the tournament in the round robin preliminaries to a strong Strabane SNPJ Lodge of Hickory, PA 20-18. Carmen Loiacono kept the score close with two fantastic diving catches in the OF. John Hickman and Jim Reeseman were both 4-for-4. Lou Lussi smashed a 3-run homer. In the second preliminary game, TNT woke up and defeated local Manassas power Team Zip 18-8 behind the pitching of Steve Calabrese and hot hitting of John Hickman (4-4). Bruce Cavilotti, Duane Impeciati and Bill Pezzotti also had three hits including a homer and 4 RBIs for Pezzotti.

After the Preliminary Rounds were completed, teams were seeded and then placed into a double elimination type format. TNT opened up the elimination portion of the tournament with the Beltway Bandits of Centreville, VA. Behind three hits each from Steve Dimitry, Reeseman and Cavolotti, plus the power of Bob Foley (HR, 5 RBIs), TNT came out on top with a 17-12 win. That set up the next match with the Pittsburgh Stars of PA. This game was a tough one and went back and forth and TNT escaped with a 11-10 victory as Jim Saldutti knocked in what proved to be the game-winning run. Dean Finch, Scott Downs, Dimitry and Pezzotti all collected three hits in the win. Reeseman chipped in with a mammoth home run. Up next were the Portsmouth Greyhounds of VA. This team had previously steamrolled every team it played, but was no match for the TNT squad as Calabrese shut them down with his crazy array of pitches. Foley hit a towering home run and finished with 6 RBIs to lead the team to a 24-8 victory. Calabrese was also backed by the combined hitting of Ken Capelli, Joe Bonavota, Impeciati, Saldutti, Pezzotti, Dimitry and Lussi, all collecting three hits each.

TNT now advanced to the winner's bracket final against Team Zip from Manassas, VA. Playing in a steady rain didn't slow down the men of dynamite as pitcher Steve Calabrese (3-for-3) twirled another gem and Loiacono and Hickman dove and slid their way to a series of incredible grabs in the OF. Downs looked like a human vacuum at short-stop. Saldutti made one diving play after another at third-base to halt any other rally that Team Zip could muster. Foley banged out his 4th home run of the tournament and he along with Hickman's 4-for-4 performance and a supporting cast of Capelli, Finch, Bonavita and Cavilotti all collecting three hits led the offense.

As TNT Sports Club sat in the King Seat watching the Dudley Martin Jokers of Manassas take on Team Zip for the right to have to double dip TNT for the title, Manager Sonny Termine wrestled with trying to find the right combination of a lineup. He had been batting 15 players throughout the tournament and wanted to get down to 11-12. But, after much soul searching and the continued hitting of his 5 Extra Hitters (Pezzotti, Dimitry, Impeciati, Cavolotti and Foley), he decided to go what got him to this point and decided to bat an unheard off 15 players in the Championship game. Team Zip defeated the Dudley Martin Jokers (Jokers finished in 3rd) and the stage was set for the championship showdown. TNT was undefeated and the Zips had to defeat them twice. After TNT jumped out to a 14-3 lead in the first five innings, the result was never in doubt … or was it. The Zips mounted a furious attack and came within 14-10 going into the last inning when the defense of Loiacono and Saldutti made great plays to back pitcher Steve Calabrese and TNT to the promised land and the ISSA World Championship. Loiacono, Cavilotti, Pezzotti and Downs all had 2 hits in the final game. Manager Sonny Termine just sat back and watched "his boys" celebrate and with a tear in his eye, proclaimed "I never thought this was possible when every team we played batted their best 10-11 players and we batted all 15 of our players and we still came out on top". This is a credit to every player on this team that sacrificed and played hard during this whole three day event".

At the Awards Ceremony; Sonny Termine was awarded a plaque as the ISSA Manager of the Year Award for his guidance of the TNT gang as his hunch paid off with the EH crew and his defensive switches. Shortstop Scott Downs (13-18, .722) received the Tournament MVP Plaque as his leadership at shortstop and his clutch hitting was a huge factor in this championship win. Carmen Loiacono earned the Defensive MVP of the Tournament Plaque for his magical glove work. Members of the All-World Team, who received special medals include: Bruce Cavilotti (16-20, .800), John Hickman (17-23, .739), Ken Capelli (.727) and Jim Saldutti (11-17, .647). The other members of the team also received championship medals include; Bill Pezzotti, Duane Impeciati, Steve Dimitry, Jim "Dawg" Reeseman, Dean Finch, Joe Bonavita, Steve Calabrese, Lou Lussi, Bob Foley and Lynn Thompson. The team will rest for a couple of weeks and then head down to Burlington, NC for the ASA Senior National Championships on Labor Day Weekend.
---
Amateur Softball Association of Pennsylvania (ASA of PA) State Champions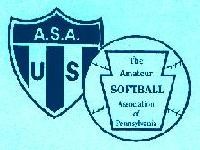 ASA State Champion Team Members:
Kneeling; Carman Loiacono, Dean Finch, Lou Lussi, Steev Calabrese,, Heels Gelet (Commissioner), Joe Bonavita, Sonny Termine, Dean Finch, Scott Acornley
Standing; Bob Rodgers, Dennis Reagan, Jim Saldutti, Pete Lynch, Rob Wisner, Gator Steiner, Bill Pezzotti, Jim Reisman, Mike Corliss, John Hickman, Steve Dimitry, Bob Foley (Not Pictured)- Leo Fitzpatrick, Lynn Thompson
Tournament Name: ASA Men's Senior Class 50 AAA/AA Slow Pitch State Championship
Location: Quakertown, Pennsylvania
Date: 7/9/2010 to 7/11/2010
NOTE: Double Elimination only, no pool play due to rain
| | | |
| --- | --- | --- |
| | FINAL STANDINGS | RECORD |
| 1 | TNT Sports Club, Norristown | 4-0 |
| 2 | Garner Lumber, State College (8) 4-2 | 4-2 |
| 3 | Scoreboard Sports Bar/Gallerie Construction, Stroudsburg (12) 2-2 | 2-2 |
| 4 | Spring Ford AA Red, Linfield (14) 2-2 | 2-2 |
| 5 | American Legion Post #245, State College (8) 1-2 | 1-2 |
| 6 | Leisure Tavern, Wilkes-Barre (1) 1-2 | 1-2 |
| 7 | Spring Ford AA White, Linfield (14) 0-2 | 0-2 |
| 8 | Mountain View Fire Company, Allentown (3) 0-2 | 0-2 |
Most Valuable Player
Joey Bonavita, TNT Sports Club, 2B (12-14, .857)
ASA of PA 50 & Over All State Team
Defensive MVP - Rob Wisner, P (10-15, .667) - TNT
Bob Foley, EH (15-18, .833) - TNT
Steve Dimitry, EH (13-18, .722) - TNT
Bill Pezzotti, EH (12-17, .706) - TNT
Denny Reagan, LF (10-15, .667) - TNT
Pat Hurley, (.602) - Garner Lumber
Donnie Stern, (.602) - Garner Lumber
Mark Ward, (.540) - Garner Lumber
Terry Martin, (.667) - Scoreboard Sports Bar/Gallerie Construction
Bob Searles, (.625) - Scoreboard Sports Bar/Gallerie Construction
Larry Smith, (.729) - Spring Ford AA Red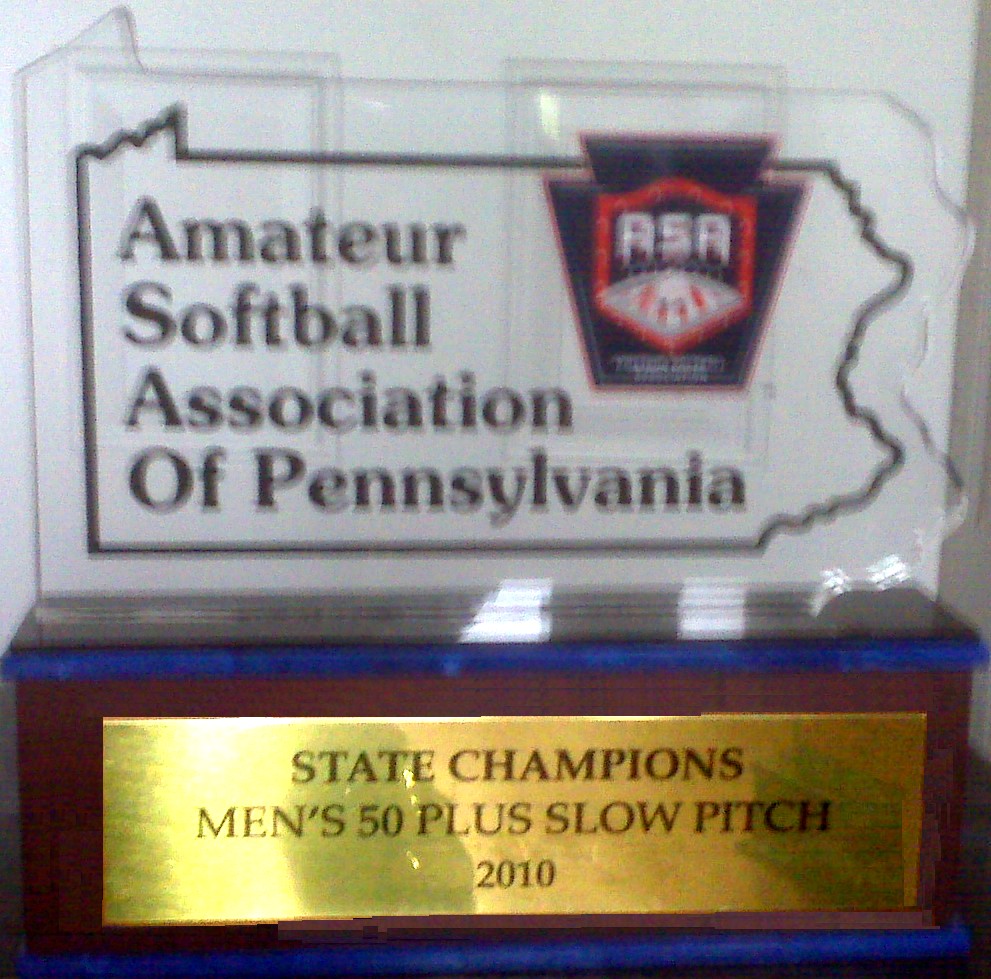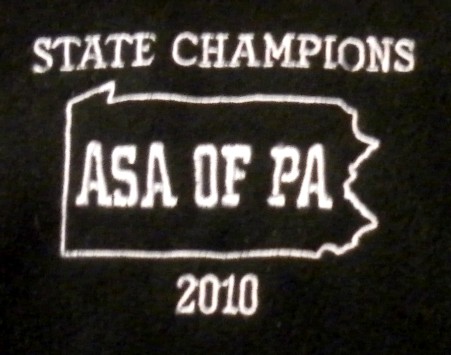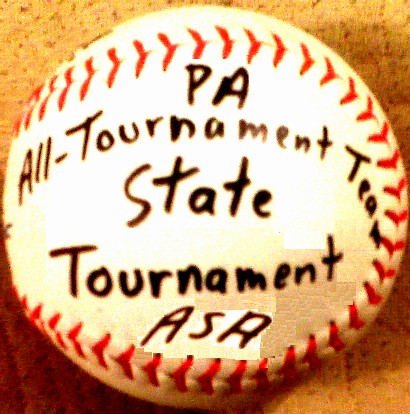 TNT Sports Club Captures another State Softball Title

TNT Sports Club of Norristown under the managerial reigns of Sonny Termine captured the ASA of PA 50 & Over State Softball Championship this past weekend in Quakertown, PA. The Tournament was run by District-14 commissioner Sully Gelet and assisted by Tom Schadt. Eight teams from around the state entered the event. TNT started their title run on the right foot by defeating Spring-Ford AA White of Linfield 35-9 in the opening game. Bob Foley, Steve Dimitry and Bill Pezzotti all went 4-5 to back the fine pitching of Rob Wisner.

The next game was a nail-biter as TNT defeated Garner Lumber of State College in the bottom of the 9th inning on a walk off single by Bill Pezzotti. The game was a seasaw battle with both teams making some great defensive plays. Bobby Rodgers, Dean Finch and John Hickman all made terrific grabs to end potential Garner rallies. The bottom of the 9th started off with Dimitry singling up the middle, Jim "Dawg" Reisman singled to left, Bob Foley was then intentionally walked to load the bases, before Pezzotti's heroics plated Dimitry with the winning run and a 21-20 victory.

Next up was the powerful defending State Champs Scoreboard/Gallerie & Sons of Stroudsburg. In last years Championship final, Galleris defeated TNT to capture the 2009 crown. TNT would not be denied this time as Denny Reagan and Bob Foley each went 4-4, both with homers. Joe Bonavita continued his hit hitting as he collected his 9th straight base hit of the tournament. OF Steve Calabrese and the Scranton Legend Lou Lussi both collected 3 hits too help out in the 19-14 win.

After Garner eliminated Scoreboard/Gallerie in the semi-finals, the stage was set for a rematch between TNT and Garner Lumber. These two teams have a long history playing each other many times over the years in 45+ and 50+ play. The rematch never had the intensity of the first game as the defense and pitching of Rob Wisner led TNT to a 16-8 victory. Bill Pezzotti's 3 run homer was the big blow in the game that featured some great defensive plays by OFs Leo Fitzpatrick and Carmen Loiacono. Foley and Pezzotti were both 4-4, while Dimitry and Hickman chipped in with 3-4 performances.

This was manager Sonny Termine's 9th State Championship in long and illustrious career. After the tournament was over, awards were presented and Joe Bonavita (12-14, .857) was named the tournament MVP. Rob Wisner (10-15, .667) was selected by Termine as the Tournament Defensive MVP. All-state tournament selections were as follows: Bob Foley (15-18, .833, 2 HRs), Steve Dimitry (13-18, .722), Bill Pezzotti (12-17, .706) and Denny Reagan (10-15, .667, 2 HRs). Termine praised the OF play and the unselfish running ability of John Hickman as he volunteered to be a courtesy runner and did so countless times. Hickman was (9-17, .529), which was amazing considering he placed LC and ran all day. "He's an incredible athlete", Termine said. Termine also paid a fins compliment to Dawg Reisman (.10-17, .583) for getting some clutch hits throughout the day. Other Team members not previously mentioned include Jim Saldutti, Gator Steiner, Scott Acornley, Mike Corliss, Lynn Thompson and Pete Lynch.

The team has made plans to attend the ISSA World Tournament in Manassas, VA in August, the ASA National Championship in Burlington, NC in September and also the SSCW Northeastern National in Cape May, NJ in September. They also will travel to State College in early August to compete in the ASA of PA 45 & Over State Championship.
---
International Softball Federation (ISF) World Cup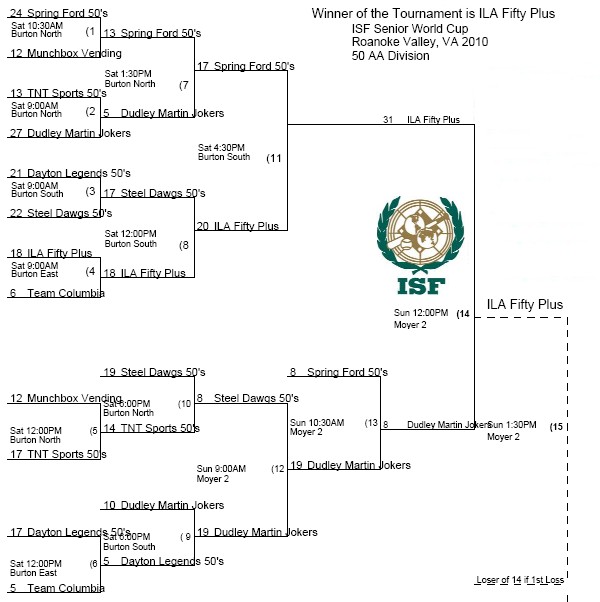 | | | | |
| --- | --- | --- | --- |
| | Team | W | L |
| 1 | ILA Fifty Plus, Norfolk, VA | 4 | 0 |
| 2 | Dudley Martin Jokers, Manassas, VA | 4 | 2 |
| 3 | Spring-Ford AA 50s, Linfield, PA | 2 | 2 |
| 4 | Steel Dawgs, Akron, OH | 2 | 2 |
| 5 | TNT Sports Club, Norristown, PA | 1 | 2 |
| 5 | Dayton Legends, Dayton, OH | 1 | 2 |
| 7 | Munchbox Vending, Halethorp, MD | 0 | 2 |
| 7 | Team Columbia, Cartagena, Columbia | 0 | 2 |
Disappointing 5th Place Finish
ISF All-World Selection - Lou Lussi (12-15, .800)


---
Senior Softball World Championship (SSWC) National Qualifier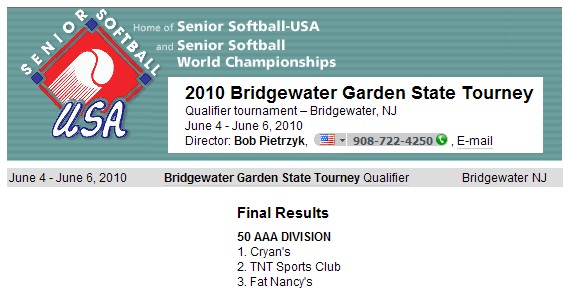 Undefeated the entire tournament until being Double Dipped By Cryan's of New Jersey in Championship - finished 5-2
All-Tournament Recognition - Duane Impeciati (21-25, .840), Bob Rodgers (18-22, .818), Steve Dimitry (17-23, .739), John Hickman (19-26, .731), Bruce Cavalotti (15-29, .750)
---
Heartland Softball Association (HSA)/Brandywine Valley Senior Softball (BVSSA) National Qualifier

Advanced out of Pool Play with 2-1 record and went 1-2 in Championship Round - finished 3-3
All-Tournament Recognition - John Hickman (13-18, .722), Bill Pezzotti (11-16, .688)
---
Softball Players Association (SPA) National Qualifier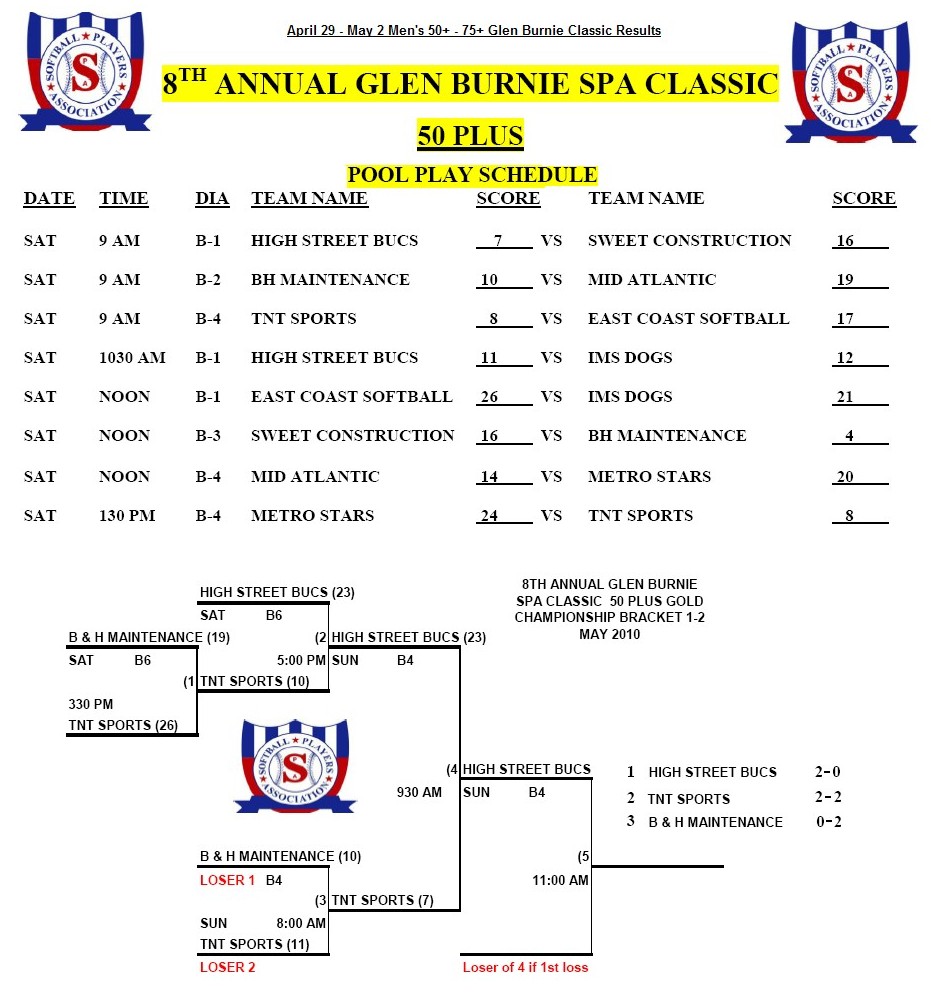 Advanced out of Pool Play with 0-2 record and went 2-2 in Consolation Round - finished 2-4
All-Tournament Selection - Leo Fitzpatrick (14-18, .778)
---
International Senior Softball Association (ISSA) Winter Nationals
In a rain shortened event held in Virginia Beach, VA on October 1-3, TNT was entered in the Class-AAA Division. The team went 1-1 in Pool Play and was 1-1 in the Championship Round when the rains came and called a halt to the tournament. The lone bright spot of the tournament was Jim "Dawg" Riesman who was named to the ISSA Winter Nationals All-Tournament Team.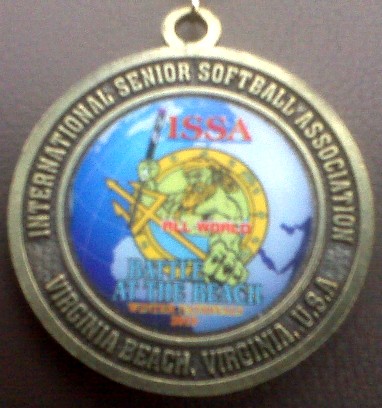 ---
---
END of the Year 2010 Statistics (Players listed are the ones that played in the majority of tournaments)
Season record was 32-19
| | | | | |
| --- | --- | --- | --- | --- |
| PLAYER | AB | H | HR | AVG. |
| Bruce Cavalotti | 50 | 37 | 2 | 0.740 |
| Scott Downs | 73 | 51 | 0 | 0.699 |
| Ken Capelli | 76 | 53 | 1 | 0.697 |
| Bob Foley | 74 | 51 | 14 | 0.689 |
| Pete Lynch | 32 | 22 | 0 | 0.688 |
| Steve Dimitry | 159 | 108 | 2 | 0.679 |
| Bob Rodgers | 56 | 38 | 3 | 0.679 |
| Leo Fitzpatrick | 43 | 29 | 0 | 0.674 |
| John Hickman | 186 | 124 | 1 | 0.667 |
| Denny Reagan | 63 | 42 | 4 | 0.667 |
| Duane Impeciati | 108 | 69 | 4 | 0.639 |
| Rob Wisner | 29 | 18 | 0 | 0.621 |
| Bill Pezzotti | 182 | 110 | 11 | 0.604 |
| Joe Bonavita | 73 | 44 | 0 | 0.603 |
| Dean Finch | 145 | 86 | 2 | 0.593 |
| Jim Dog Reessman | 96 | 55 | 5 | 0.573 |
| John Mattes | 32 | 18 | 2 | 0.563 |
| Lou Lussi | 63 | 35 | 1 | 0.556 |
| Bob Searles | 42 | 22 | 0 | 0.524 |
| Steve Calabrese | 86 | 44 | 1 | 0.512 |
| Lynn Thompson | 45 | 23 | 0 | 0.511 |
| Carmen Loiacono | 108 | 55 | 2 | 0.509 |
| Jim Saldutti | 100 | 50 | 4 | 0.500 |
| Mike Corliss | 30 | 15 | 0 | 0.500 |
| Bob Keyser | 14 | 7 | 0 | 0.500 |
---
---
---
EPILOGUE
In 2011, TNT Sports Club Club was moved up in Class because of it's very successful year in 2010. They had many ups and downs and one of the highlights was Capturing the Class-AAA/AA ASA of PA State Championships once again. They didn't fair as well in many of the other events. Yea, they won games, but the Championships were far and few in-between. Players were hurt, players got frustrated and the competition was much better. The talent was still there, just didn't have the breaks they needed to win. In 2012, the players on the team decided to go in different directions, some of the players joined the East West Outlaws, based out of the Pittsburgh Area, some stayed home with TNT Sports Club based out of Norristown and some retired. It was a wild ride while it lasted and the players involved will never forget the feeling of what they accomplished in 2010. This team started in 2009 with basically a skeleton of a team and through pickups and attrition, grew into the National Power house they became in 2010. 2011 when the team was moved up a class created some hurdles, but they did compete and did win many games, but the thrill of what they did in 2010 will never be duplicated again. In my heart, I always hope this team will reunite once again, but to all the guys playing on the many teams, I wish every single one of you the very best always. There is a bond that we achieved in 2010 that will never be broken. Peace and Health to all the cast of characters.
Cast if Characters-
The Hometown Boys
Rob Wisner - Argueably the greatest pitcher in Norristown Softball History and definitely the greatest fielding pitcher. Won many defensive awards and his will to win made every defensive player better. Has made plays that he even laughs at and shakes his head and says how did I do that.
Dean Finch - Sparkplug who is an amazing hitter and fielder with a heart of a lion. Without him acting as team secretary, the team would have been lost in transition. Doesn't look like he had a good game hitting, but when all is said and done, he is always near the top. Refuse to lose is his motto.
Bobby Rodgers - Another Norristown Softball Legend who epitomizes the word class and dignity. Still plays like he did as a young man winning championships in Norristown. Will run through a brick wall chasing a pop up and run the bases with a broken foot if needed. Incredible heart and passion for the game.
Bob Keyser - Tremendous power hitter and also a slick fielding first-basemen who also was part of the 2005 dynasty. One of the most feared power hitters in his day when he was part of many local league championships.
Mike Corliss - The emotional heart and soul of this team gave everything he had all the time, battling illness. Also an integral part of the 2005 team. Incredible power hitter back in Norristown's dead bat era. there wasn't a fence he couldn't conquer.
Bob Searles - Plays mostly out of Radnor, but considers himself a hometown boy. Blood and guts type infielder who has won many an all-tournament award. Still competes with the youngsters and still hold his own and more. Former Phillie's bat boy.
Jim Saldutti - Still playing in the Norristown league and holding his own. Physical Fitness buff who solidified the third-base position. Built like a super hero and an emotional competitor true and true with power galore with an arm to match.
Steve Calabrese - South Philly legend who has pitched and won over 1000 games in his brilliant career, including no-hitters, perfect games. Also still a tremendous OF and great hitter to all fields. One of the teams real good guys.
Leo Fitzpatrick - Was one of the best singles hitters in his heyday and even today can still play IF or OF with anyone. Still competes today with the youngsters and has managed over 100 league champions in his career. His knowledge of the game is second to none.
Dennis Reagan - One of the strongest senior player on the planet. At age 55+, can still track down anyball in LF and his hitting credentials are unmatched. Combination of power and all-field hitting make him one of the most dangerous hitter on this team.
Steve Dimitry - A Norristown Softball icon who was a tremendous athlete in his day, reduced to just hitting now due to injuries, but still regarded as Mr. Clutch by many and the highest average hitter in the senior curcuit with mind boggling stats and offensive awards. Biggest attribute is his dugout humor which keeps team loose.

The Delco Boys
John Hickman - One of the most talented and athletic players on this team. A firey leader with a will to win. Blazing speed made him a Ridley High School football star seemed destined to be fast forever.
Bill Pezzotti - Ridley Township legend who rebuilt himself into a nationally feared home run hitter. Devastating power and one of the funniest humans that ever lived. His looks as a former power lifter put fear in pitcher's eyes. Will bite the head off a snake to win and then still melts when his precious daughter stops by the dugout to say hi.
Ken Capelli - Former Philadelphia Capitolo legend who came back out of retirement and with sheer will and hard work, became one of the best all around players on this team. Once he joined the team, it won just about every tournament they entered. and that is no coincidence. Incredible combination of power and speed.
Scott Downs - Probably the MVP of the whole team. A pure shortstop who cemented the entire infield and was the reason this team was always on top. and don't think he is just a defensive player, he is one of the most consistent and high average hitter around. World and National titles started coming when he started playing.
Joey Bonavita - Never looks flashy, but will always make the play or get the base hit when needed. Keeps team loose at all times with night time antics. Loves to laugh and enjoy himself and is also one of the more respectful people on this team. He is a smooth operator.
Lynn Thompson - One of the few leftovers from the 2005 dynasty provided leadership at all times. Still a great OF late in his 50s. Played for many league champions back in his day and is always in great shape. You know where he is at all times, just follow the cigar smoke and he'll be there smiling and talking.

The Pittsburgh Boys
Bob Foley - A nationally renowned player who does work for Softball Magazine based out of Florida entering Home Run exhibitions and other events. One of the most dedicated player that ever lived and his power at the plate is unmatched. One of the most respected hitters on this team. Will never impose on anyone, but all it takes is once question from a distressed player and you'll find Mr Foley working with that player in between games to help that player out. His advice and knowledge of the game are stuff legends are made off. Has survived Military service, knee replacements, stokes, hip replacements and still can hit a softball over 400 feet. His story is a testament of hard work and practice.
Jim "Dog" Reeseman - Former Pittsburgh star who played with many of the great teams. Unbelivable fielding first-baseman who turned games around with fielding plays and also with some 350' monster shots for homers. Loves to laugh and when doing so, becomes contagious to the complete team.

The Upstate Boys
Duane "Impy" Impeciati - An enigma at the plate, can hit a soft liner to RF, chop a single through the six hole and then hit a thunderous home run. Incredible hitter and teammate. His humor is unmatched by few and his quick wit is a thing of beauty. Nothing escapes him and he may not bring it up then, but when you least expect it, out comes the comment with that grin only he can muster up.
Carmen Loiacono - Defensive specialist who can play IF and OF with any senior player around. Still fast as lightening and at 165 lbs, can also hit a bomb or two when needed. Great teammate who is always picking everyone else up when they are down. Dives all over the place as if he is still 20 years old. Unbelivable.
John Mattes - One of the most powerful players on this team. Home run power is awesome, has to tone down swing even on baseball fields. Also a good defensive player when the need arises as he fears nothing.
Lou Lussi - One of Pittston Area's all-time greats. Played for many state powerhouses in his day and at age 65, can still out him many of the 50s. Great teammate, will defend anyone on this team, no matter how big the obstacle. And once he tells an opponent to back off ... a silence usually follows. A PIAA official in his hometown.
Pete Lynch- This guy can player anywhere, IF, OF, Pitcher. He was struck with a ball in the chest that traveled about 120 mph and was knocked down, many thought he was dead. Bounced back up and grabbed the ball and said they have to kill me to get me out of the game. Has a heart the size of New Jersey. Always came through in the clutch.
Bruce Cavalotti - Was the teams leading hitter until a devastating shoulder injury ended his season early. He had power and the ability to hit to all fields and also was probably the nicest person on this team. He did have shoulder surgery in the off season and has come back as good as ever. One of the finest pure hitters around.
Others
I would be doing an injustice if I don't mention a few others who played or joined the team in the Fall Season of Senior Softball. Zeke Gongo and Tommy Ihlefeld of the Pittsburgh Area as these two talented individuals played towards the end of the season and into 2012. Zeke is a base hit hitting machine and Tommy can hit a ball as hard as anybody on this team. Also helping out for a while were the York Boys: Chaz Ruth, Steve Albright, Dave Hoffman, Tom Kessler, Mitch McGuigan and Larry Ritz. Their contributions were extremely valuable. Gator Steiner from the Wilkes-Barre area helped out and had some key hits and plays in the OF also. Andy Drobek of Norristown stepped into the pitching role when called upon and did a wonderful job. He is one guy you can't just have "one" beer with. Norristown's Norm Kidd also stepped in when needed to give outfield support along with his still speedy legs to pinch run. Much credit HAS given to some of the players of the 2005 team that still stayed around to star, play and contribute: this team learned a great deal from the likes of Ron Postell, Ron Weikel and the Greatest Senior Player in Norristown Softball History, the legendary Dale Hood who to this day at age 60 is still winning MVPs and earning multiple all-national and all-world team recognition. he is and always will be in a class by himself as a pure hitter. Much comes naturally to him, but he works hard at it, all year round keeping his legs in shape and his batting eye sharp by swinging off a Tee every single day. If there was one person on this planet that you wanted up when you needed a hit ... Dale Hood is the man.
---
July 8-10, 2011 - 50 & Over Class-AAA/AA States, Quakertown
1. TNT Sports Club, Norristown 4-1 (5-2)
2. Garner Lumber, State College 5-2 (6-3)
3. Scorecard Sports Bar/Roadhouse Blues, Stroudsburg 3-2 (3-4)
4. Lynch Construction, Wilkes-Barre 2-2 (3-3)
5. Ultimate Auto Body, York 1-2 (3-2)
6. Pido's Pub, Pittsburgh 1-2 (3-2)
7. Spring-Ford AA, Linfield 1-2 (3-2)
8. Leisure Tavern, Wilkes-Barre 0-2 (0-4)
9. State College Legion Post, State College 0-2 (0-4)
All-State Tournament Team:
MVP - Dennis Reagan, TNT Sports Club (17-18, .944)
Dean Finch, TNT (12-17, .706)
Ken Capelli, TNT (18-24, .667)
Steve Dimitry, TNT (14-21, .667)
Bill Pezzotti, TNT (14-22, .636)
Roger Keller, Garner Lumber (.758)
Mark Ward, Garner Lumber (.679)
Donnie Stern, Garner Lumber (.640)
Duane "Impy" Impeciati, Scorecard (.705)
Terry Martin, Scorecard (.680)
Mark Iorio, Lynch Construction (.782)
ASA 2011 State Champion Team Members:
Kneeling; Bob Rodgers, Steev Calabrese, John Hickman, Taylor Finch, Steve Dimitry, Scott Acornley, Dean Finch, Sonny Termine
Standing; Bobby Keyser, Bob Foley, Mike Corliss, Bill Pezzotti, Scott Downs, Ken Capelli, Earl Dawson, Zeke Gongo, Tony Gambone, Jim Saldutti, Jeff Sell (Commissioner), Dennis Reagan
MVP- Dennis Reagan (17-18, .944)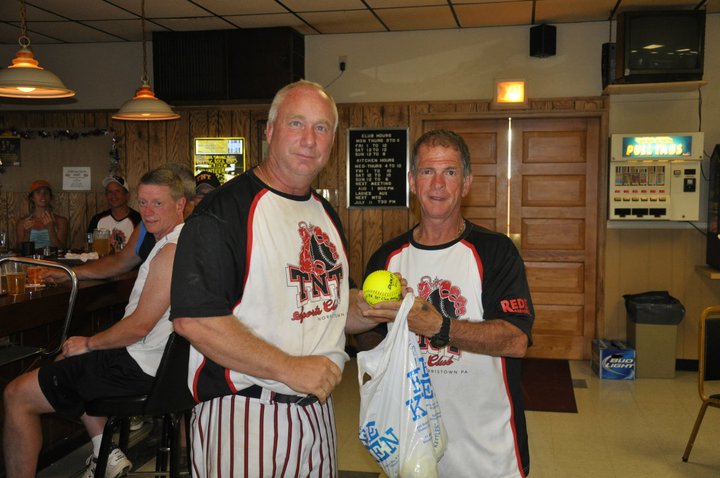 ---
Here is the 2009 Team that this team evolved from: They finished 9-10 on the season.
| | | | | |
| --- | --- | --- | --- | --- |
| Player | Avg | Hits | At Bats | HRs |
| John Hickman | 0.727 | 8 | 11 | 0 |
| Steve Dimitry | 0.671 | 47 | 70 | 0 |
| Rob Wisner | 0.657 | 23 | 35 | 0 |
| Bob Rogers | 0.647 | 22 | 34 | 0 |
| Steve Calabrese | 0.634 | 26 | 41 | 0 |
| Dean Finch | 0.603 | 41 | 68 | 0 |
| Bob Keyser | 0.596 | 34 | 57 | 5 |
| Dennis Reagan | 0.574 | 27 | 47 | 2 |
| Leo Fitzpatrick | 0.556 | 15 | 27 | 0 |
| Mike Corliss | 0.556 | 5 | 9 | 0 |
| Lynn Thompson | 0.550 | 11 | 20 | 0 |
| Bobby Searles | 0.545 | 36 | 66 | 0 |
| Billy Hill | 0.533 | 8 | 15 | 0 |
| Ron Weikel | 0.529 | 9 | 17 | 0 |
| Ron Postel | 0.526 | 10 | 19 | 0 |
| Bill Brown | 0.525 | 21 | 40 | 0 |
| Dale Hood | 0.500 | 11 | 22 | 0 |
| Jim Saldutti | 0.500 | 7 | 14 | 0 |
| Big Bald Nick | 0.500 | 8 | 16 | 0 |
| Joe Jacobs | 0.500 | 4 | 8 | 0 |
| Bill Pezzotti | 0.500 | 2 | 4 | 0 |
| Lou Lussi | 0.500 | 6 | 12 | 0 |
| Tommy Fairlie | 0.476 | 10 | 21 | 0 |
| Andy Drobek | 0.444 | 8 | 18 | 0 |
| Pete Sisson | 0.400 | 4 | 10 | 0 |
---
---
---
---
©1998 Steve Dimitry, all rights reserved.
Email: sdimitry@verizon.net